The secret to GETTING YOUR SITE TO PAGE 1 WITHIN 24 HOURS is that "there are no secrets for first page Google rankings" however there are techniques which you can use to rank higher in Google very fast.
First, go and open up Google Webmaster Tools Search Console Performance report (Search) and take a look at some undeniably best SEO data you can ever look at, shown to you by Google search engine algorithms.
Experiment with these metrics and take a special note of high impression count for keywords that Google is already ranking your site high in its organic results (perhaps note the average position 3+ till 9th position). What this metric shows you is priceless when you want your website to get on the first page of Google in fast (usual time frame for this secret SEO method ranking result is 24 hours, seriously).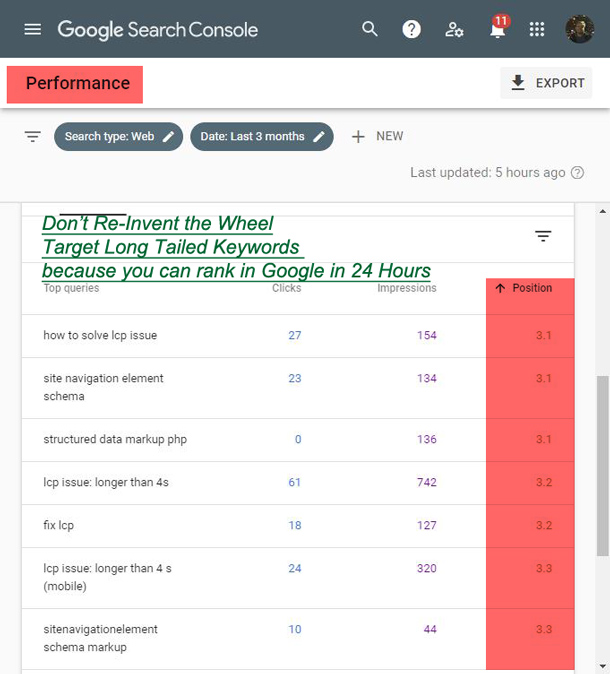 Here's a Video by RankYa for Search Console Performance Reports
What's Next?
Go to Google search box and start typing keywords related to the search terms you found in Search Console and identify keywords that are  made up of 3 plus long tailed keywords particularly search terms with question oriented intent as shown in this sample image below: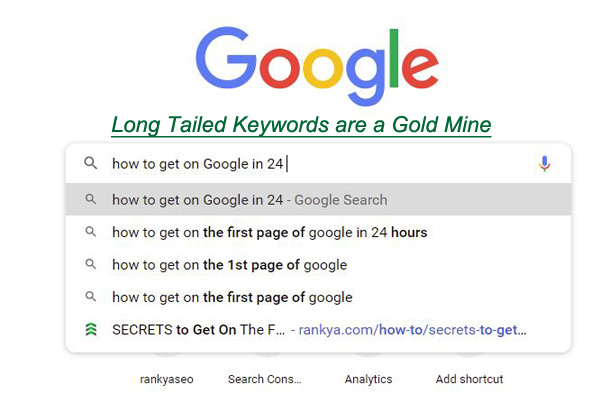 Most people will tell you target keywords that has high amount of monthly searches, however, Google Search Console confirms the impression count (amount of searches conducted) for you to decide on which keywords you should target. Let's do some math to realize the importance of long tailed keywords:
This blog post I am creating for you right now is actually follows the same techniques you are learning.
RankYa's own Google Webmaster Tools Search Console revealed search terms "how to get on the first page of google in 24 hours" was being searched and my site was lingering around position 4 and if I rank these keywords in the first position (whether within 1 day or 1 week) still equals to FREE website traffic "eternally".
Final Step to Get Your Site to Page 1 in Google
Now all you have to do is create original and useful content targeting keywords you identified, and once you publish this new content, go and share the link on your social profiles (particularly if you're maintaining another site, share it there as well). And voila, you will get first page Google rankings usually in less than 24 hours
Remember, keyword targeting is nothing more than answering questions, regardless of the keyword being searched, people ask questions through Google search box. That's how you need to think of keywords. And how best to answer those questions on your website = better content = eternally higher Google rankings
Previous Video Lesson Explaining These Techniques
Impressions
Defined by Google: how many links to your site a user saw on Google search results, even if the link was not scrolled into view (that is why the first 3 positions in organic rankings are extremely important). However, if a user views only page 1 and the link is on page 2, the impression is not counted. The count is aggregated by site or page. With infinitely scrolling pages, such as image search, the impression might require the item to be scrolled into view.
Try these techniques and see the results for yourself. More insights can be found here How to Get On the First Page of Google.