All business's whether local or national or international want to be in Google search results. Preferably within first page first position. So how's ranking in Google Local Business results work and how exactly does your keywords stay there? Easy, by using proven to work non-spam techniques.
Video Showing How to Rank in Google Local Business Results
Google My Business Listing is Free and Assists Local Business Rankings in Google
If you haven't already, then go ahead and create your free Google My Business Listing. When you do, make sure that you provide as much and as unique detail as possible about your business.
Complete listings inspire trust and are 78% more likely to be viewed as well-established.
Make It Easy for Others to Provide Reviews for Your Google My Business Listing
Search for your company by name in Google Maps
Press on share link
Then copy the link and insert it in an Email, SMS, or Facebook posts (or about us section for your Facebook Business Page, or anywhere where your customers can Write a Review)
One way or another, find new ways to get reviews for your business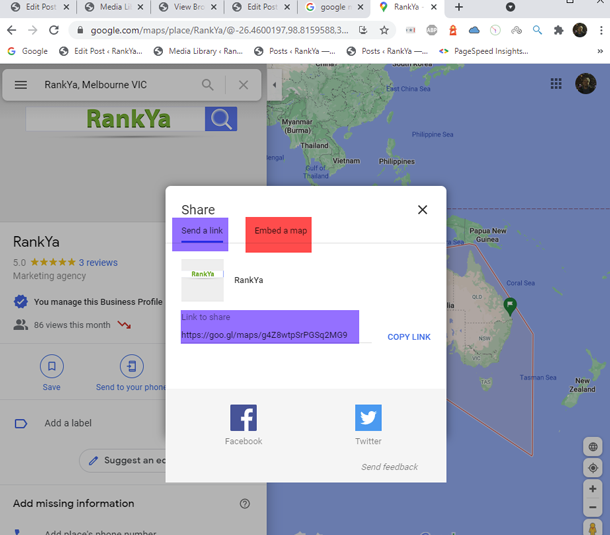 Also, to see your business listing higher in search engines like Google, include photos about your business making sure to optimize your company business photos to include cues for search engines like Google. How to optimize images beyond basics blog post by RankYa highlights more insights about image optimization.
Remember, everything you do online is incorporated and is tied to your Google Local Business organic results.
Optimize Your Entire Website for Top Google Rankings
Despite what we may think about Google search engine, its actually very primitive, that means, it has to rely on certain factors when calculating relevance of web documents (including landing pages) these factors are the same for each and every website. Mainly, what we can do from our end is that we can use keywords and categorize the website structure intelligently so that the website send the right signals for Google ranking signals.
Hey Google when you analyze this Domain and all URLs on it, please do understand My Local Business Name, Address and Other specific details about my business as well as the location and services the site offers
Obviously, your contact page will naturally include these details which are specific to your local business. However, footer section can also include these details throughout your entire Local Business Website.
One of the most important factors to consider here for better google local business ranking results is the site structure and the keywords sewn together with internal links.
But you can also provide links back to any part of your Google My Business Listing (you can even link back to your Google Maps as well as your business Photos).
When creating external social profiles (let's say YouTube channel), then we can provide similar details about our business in our YouTube channel description and include a link back to your business site, regularly changing anchor text of links. For example: 1 backlink to your home page, and the next can be to your contact page, or about us page or any other different page other than your home page.
Mobile SEO
Because local businesses and addresses are tied to Google Maps, and because people use mobile devices to search for business details, physical location of a local business and physical location of the searcher is considered. Today, all types of businesses (Local, National or Global, or even eCommerce) need full website optimization for mobile device experience focusing mainly on page load times and mobile usability. That means, optimize your website for faster loading and mobile usage experience.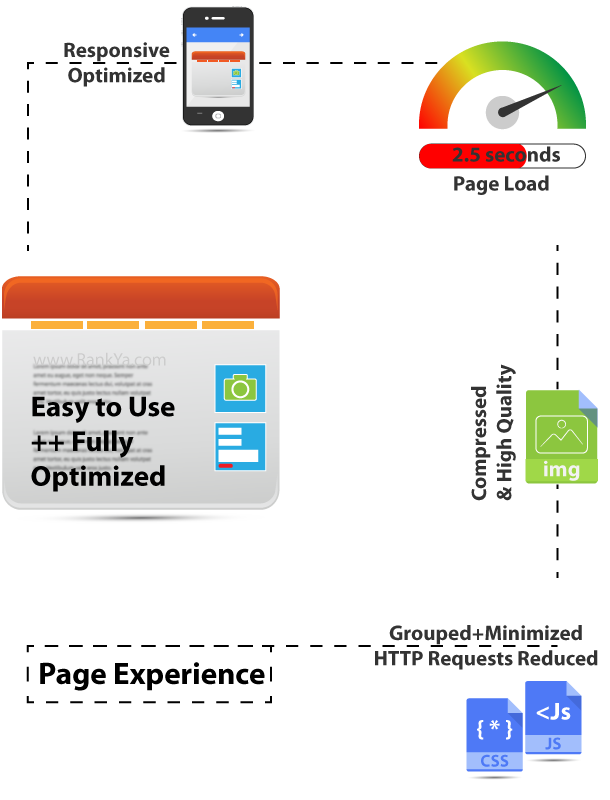 Embed Google Maps
You can embed a Google Map of your location on your company website, having said that, you need to consider two important factors when embedding Google Maps.
Usability: perhaps Embed Google Maps only on Contact Page if that's more appropriate for your business website to achieve its conversion objective
Page Load Times: loading Google Maps on all pages will add to page load times which are also important to consider when providing improved usability
360 Images and Tours Drive Results
Depending on your business type, you can enhance your listing with various option provided by Google. Check out feature your business on Google Maps
Use Social Profiles for Higher Ranking for Your Local Business
I love sharing knowledge, and yet, there are my own trade secrets which is learnt through countless hours of learning. Just for you because your eyes are fixed to learn. Almost all types and sizes of business today use various different social media platforms (Facebook, YouTube, online communities etc.) as part of their digital marketing strategy. But most local businesses do not use social media platforms and backlinks for what they are worth.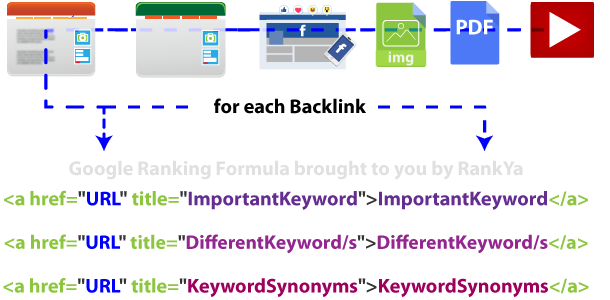 The way Google rankings work is in a sense that it relies heavily on information that it finds and evaluates for a given keyword.
Understand the fact that when someone searches Google with your industry specific keywords OR even your brand name, as far as Google is concerned, its just WORDS. Knowing this important information, you can now realize the importance of social media marketing because any profile you create will include plenty of information for Google to consider, as well as business details (Business Name, Address, Phone Number, Domain Address etc.).
Top Secret Ways to Rank in Google Local Business Results Using Links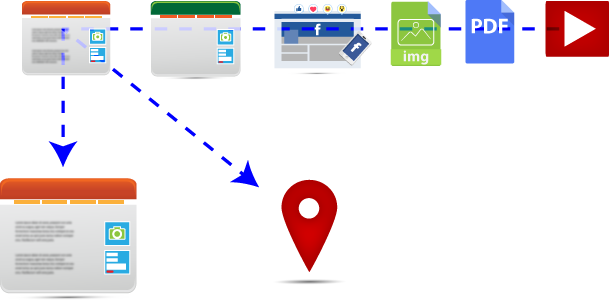 Your Website (about us page or contact us page or any other page including blog posts) can be linked towards
Google My Business Listing
Google Maps (directly or using the share link provided by Google)
Any piece of content can be linked to
Any type of file formats can also be used when linking (for example: you can use an image to link back to your website or even Google Map URL)
Links within different file formats (PDF, Text, Infographics etc.) are also calculated for local business ranking
Use Structured Data to Rank Higher in Google SERP
Although its not a Google ranking factor per se, Structured Data can indirectly help Google rankings (I won't explain how that works). Because there are few different Schema Markup types you can include on your website to guide Google search engine algorithms about the type of business or organization you have. In fact, Google suggests that all website owners start using Structured Data. You can markup your site with these details
Local Business Structured Data Examples for Google
How to Increase Google Local Business Ranking Outcome Using the New Google Search Console Performance Report
Google search console is a gold mine to quickly analyze and gain a better understanding on how Google search engine views your website. For example: Search Console Performance Report shows impression count of most searched queries for your website. Match that information with the rank position of your landing pages to create your next content on your website to gain higher Google Local Business Results. Let's simplify this process: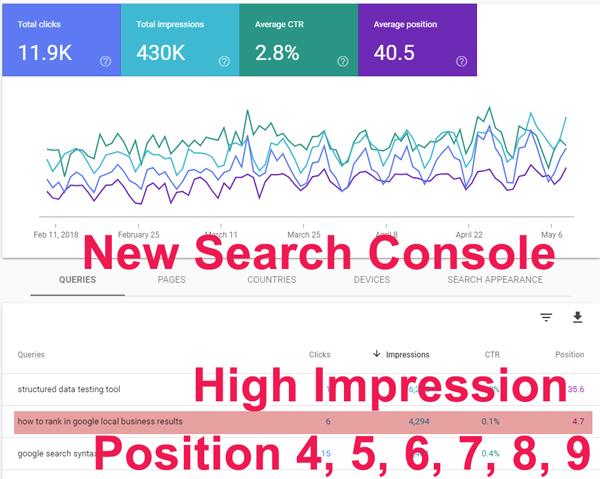 When logged in to the New Google Search Console, (formerly Webmaster Tools) select Performance Report (press on all the colorful tabs) and then while looking at Queries
Identify what keywords Google is already bringing website traffic to your website
Take a look at impression count (look at highest number) and
Look at position rank and look at those with high position (4, 5, 6 till 9)
Press on the keyword query itself (this will open up new insights)
Press on PAGES to see which pages Google is valuing your website for
What this then shows you is Search Queries (keywords) and your current average rank position lingering around the middle of the page (4th 5th 6th 7th 8th 9th) means that somehow Google algorithms are already valuing your website for some keywords, and yet, if the impression count is High and your Click Through Rate is low. That should tell you what your next content creation should be related to.
You can explore Performance report and whenever you are looking at a query keyword, press on it and then press on Pages to see which pages are ranking for those queries.
How to Use This Information for Top Position Google Ranking
You can SEO those landing pages. If you've already done that, analyze it again and see if you can re-optimize it according to RankYa SEO Mastery Techniques
Add another new complimentary page and link these pages together
Increase internal link count to point to these landing pages
Share these pages externally
Get backlinks pointing to those landing pages
You can skip all these important techniques for rankings, and instead, hire RankYa expertise because then your website and Google my business listing results will skyrocket in Google Search, in Google Image Search, also in Google Maps search combined
What Else Can You Do for Higher Business Site Ranking Results in Google?
Although I covered most things which will certainly help your local business to rank higher in Google. There are different methods you can use to improve rankings in Google. For example by using different file formats such as PDF, videos or infographic to add additional value for your website visitors, and increase keyword count and internal linking through different content types. I've actually created a basic sample PDF for demonstration purposes, you can download SEO PDF here. All infographics can include links.
Using Stock Images or Original Images for Top Rankings?
Just like all things new, we all love to open up a present for the first time. Same is true regarding images, you can use stock images (which you should) for most blog posts, however, regarding business specific digital assets, if resources permit use original photos or images. In fact, best approach would always be to create original images and publish them on your site first. (Most RankYa's valued clients always enjoy original brand new images that I create using Adobe Illustrator).
Google Ads for Your Local Business Success
Whether you are solely relying on Google organic rankings, or other means to drive targeted website traffic, consider investing in advertising with Google Ads for your local business to reach more customers with an online ad if you are not doing that as of yet.
Not only you can get new and targeted local business customers, its actually not that expensive when you setup your ads campaigns thoroughly. Here are very important PPC tips you can benefit from:
Brand Protect (that means, create a campaign just to protect brand related keywords)
Get your competitor's customers: create a seperate campaign targeting keywords related to your competitors brand
Use Location Extension
Use Review Extensions
Test Phone Call Extensions when you want your customer to call your business
Choose Location Targeting Options (and override default settings) (Location options let you include or exclude people based on where they're likely to be physically located or the places that they're interested in.). That means, in 99% of cases, using the targeting setting for physically located in my target location is more ideal for Local Business Community)
Make sure your landing pages are optimized using on page techniques as detailed on RankYa blog
Use localBusiness Schema markup on final URL
Create Ads specific per landing page
Categorize Content
Most Local Businesses often require higher ranking for different locations such as suburbs, county's, cities, or even country specific keywords. And to be able to achieve top Google organic rankings, one of the best things you can do is categorize and better structure your entire website. For example: instead of having URL names like "electrician-florida.html" you could instead create a category and name it as "locations" or "areas-we-serve" and then branch out suburb location accordingly.
Then following RankYa's On Page SEO Techniques will easily allow you to get first position rankings (within days) because ranking local intent keywords are not as hard as competitive keyword ranking. Follow these insights and see the results for yourself.