Most website owners wanting to get top Google ranking results without paying have either tried Google Adwords PPC advertising (which can cost lots of money for competitive keywords) or, you have realized that to succeed on internet, your website requires targeted website traffic (potential customers). So let me now simplify how you can get to the top of Google without paying a single $ dollar.
Search Engine Optimization for Highest Google Organic Rank Position
If you never heard of Search Engine Optimization (also known as 'SEO'), that's a plus for you because you don't have to spend weeks getting confused about SEO due to misinformation circulating about how to get on Google first page for FREE on other websites. Instead, you can now use proven to work search engine optimization techniques by #RankYa and get top results within days.
I'm sure that you just can't wait to learn practical SEO techniques for first position in Google, because I imagine that you want to keep your cash in your pocket, after all, why pay top dollars when you can get better Google rank results without paying any money.
So let's learn how-to methods for getting first position google organic rank results, and remember that you can even see your own website in Google first page within 24 hours. Let me detail how
Start with Keywords in The Domain Name
What does this mean? If your domain name includes keywords of interest to you, then begin targeting those keywords first, and also keywords which you can stem from those keywords in your domain name. For example: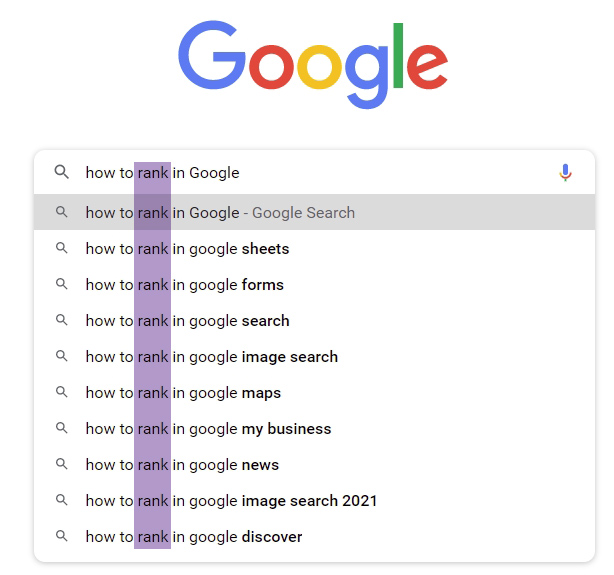 www.rankya.com contains the keyword rank, that means I should start building steady website traffic through top google rankings by targeting keywords that includes the keyword "RANK".
Now looking at the Search Console Performance reports I can Filter Queries for "Rank" and find web pages that are already ranking below 10th position.
Then, I can conduct a through long tailed keyword research and start targeting long tailed keywords first (key-words made up of more than 3 words). Why? Because most website owners believe that long tailed keywords aren't worth the effort due to low amount of monthly Google searches. Logical as that may sound, Google rankings doesn't work like that. Meaning:
Although long tailed keywords won't bring your online business overnight success (due to low amount of searches conducted in Google search engine), you must target them because ranking them will help you to get top rankings for your competitive keywords as well.
So once again, instead of trying to rank highly competitive keywords first, you must begin targeting long tailed keywords first and then work towards getting top Google ranking results for your competitive keywords next.
No Keywords in the Domain? That's Not a Problem
Now that we know the importance of beginning with the keywords in your domain name, and selecting long tailed keywords first. What if your domain name doesn't include potential keywords to target.
Because you may have chosen your domain name for branding purpose. Whether that is the case, or not, categorize your content so that next part of your URL structure includes niche specific keywords. For example:
www.rankya.com/category/how-to/
www.rankya.com/category/seo/
www.rankya.com/category/structured-data/
www.rankya.com/category/wordpress/
www.rankya.com/category/category/google-search-console/
Surely your website will be in a different niche, and perhaps your website is an eCommerce store. In all cases, keywords in the URL's are an important signal, but not just because of top Google search rankings, but because it provides better usability for real human visitors who will actually visit your website.
And that's what Google does, analyze websites from a user-experience point of view. Thus, will reward websites that are based on quality and usability.
Just imagine having this sort of URL structure? exampledomain.com/?p=123
exampledomain.com/?p=345 It just won't make sense to people looking at that as to what the web page is about, therefore, it won't make sense to Google either.
Analyze Google Search Console for Keywords to Target Next
If your website is verified for using Google Search Console, then take a look at Performance report report and identify opportunities by looking at what Google already ranks your website for.
In my own Google Search Console web property I can see that Google is already ranking my website for
how to get on the first page of Google in 24 hours
Looking at average position for 3, 4, 5, 6, 7, 8, 9 with good amount of impressions (think of impressions as people are searching for those keywords in n+ amount) in Search Console, I may then create new (or update) content which compliments these search terms:
how to get on Google first page for free
how to get to the top of Google without paying
What is important to consider in these examples is that, I could create content individually (as in a brand new web page) for each of these long tailed keywords.
Or, depending on the competitiveness of keywords, I could perhaps create 1 page (or blog post) and target all of these keywords within a single URL. In both cases, internal linking is critical using various anchor text. For example: <a title="how to get first page Google rankings" href="https://www.rankya.com/seo/how-to-get-on-the-first-page-of-google/">first page of Google in 24 hours</a> <a title="how to rank in Google within 24 hours" href="https://www.rankya.com/secrets-to-get-on-the-first-page-of-google-in-24-hours/">how to get on the first page of Google in 24 hours</a>
Improve Website Usability Before Achieving Top Google Rankings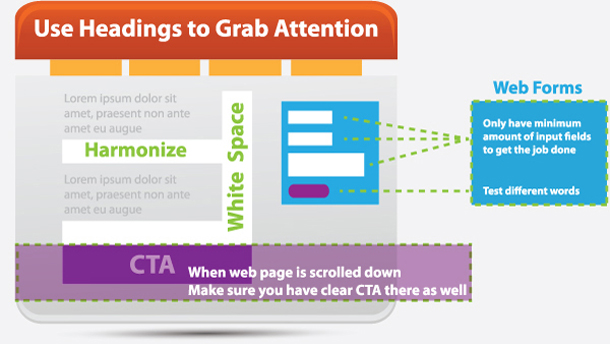 In all of the above examples, SEO (to me) basically starts with improving usability and content presentation (since Google considers these factors for its ranking calculations).
Therefore, SEO isn't about placing keywords in the URL, title, meta description, or even within the web copy. But rather, it begins with website usability improvements so that each visitor Google delivers, enjoys experiencing your website and finds what they are looking for.
Website usability is important and is missing on most websites, so make sure that you do not neglect website usability optimization.
What's Next for Achieving Top Google Rankings Without Paying?
Now the stage is set, because you made sure that your website has greatly improved its presentation of content, usability. Its now ready for easy on page optimization as shown in the next image: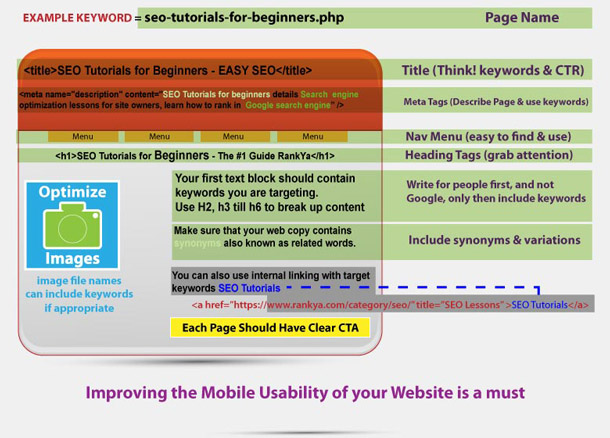 Conclusion – How Do I Get To The Top Of Google Without Paying?
By now, you've learnt Google dominance techniques that you can easily use for getting to the top of Google without paying a cent to anyone. Basically, website optimization and online marketing are the key components to getting to the top of Google without paying.
The first is your On Page search engine optimization. This is content creation coupled with optimizing your website to make Google understand what your site is about.
The second is your off site marketing. This is about sharing your content on your own social profiles and encouraging website visitors to share your content on their social profiles which naturally will count as backlinks.
Remember, SEO spammers claim as to more links act as positive votes of confidence in the quality and relevance of your site will NOT work. Google guidelines on links state that you must not attempt deceptive backlinking. So avoid such techniques, instead make sure that you create useful content.
Local Businesses Can Get to the Top of Google for FREE
Google My Business is free service by Google. Its ideal for local businesses that want to show their details without paying Google (for example: locksmiths, retail stores, tradies, lawyers and the like). All you have to do is provide as much detail about your business as possible in Google My Business listing.
Keep in mind that GMB is connected to Google Maps as well as web search and doesn't cost you any money to create your business profile. That means, when people search your industry specific keywords, Google My Business listing is another way to make your business rank better in Google without having to pay for Google Ads.
Try these insights like other website owners who are already seeing great ranking results by just following these easy to use web page optimization techniques by RankYa.