Local business owner looking for how to's for ranking higher in Google Maps for your local business? Look no further because I am going to reveal to you techniques that will help your business be found in Google Maps Results, as well as Google web search results (because you can not have one without the other).
Improve Customer Service for Your Local Ranking on Google
Just imagine your ideal customer using their mobile device searching Google. If they can find your business quickly, that's a great customer service (both for Google and your business) and at this moment whether their mobile device Location Services option is turned on or off, Google most likely will know their current location. You influence Google Maps ranking by telling search engines where your business is located and areas that it serves.
How Google sources and uses information in business listings Let's imagine that you are in a restaurant business, then if you search for "Italian Restaurants" using your smartphone, Google will try to show you nearby restaurants. In the image below, Google uses local results to suggest some options to the searcher.
To simplify your understanding of how to rank higher in Google Maps, take another look at the image above, pay special attention and notice the part where it says "All, Maps, News, Images, Videos" and you'll notice the word ALL underlined in blue color. That's because at the core of ALL Google ranking algorithms are all the same signals and ranking factors.
However, you found RankYa and now want to know the answer to this very important question "what differs when it comes to Google Maps results?". Naturally, knowing that particular answer is the key for highest possible Google Maps rankings for various search terms for your local business.
Top 4 Methods for Ranking Higher in Google Maps
Reviews and also your reply to the reviews your customer has left
Having a complete Google My Business Listing profile
Fully search engine optimize your website
Backlinks
Get Ranked in Google Maps Using Reviews
Reviews are a natural part of the Internet, in fact, in the year 2021 the people power has really changed the way businesses operate. Now you the individual, or your customer who is happy and satisfied can use their smart phones to share their experiences. You as the local business owner need to simplify the process of obtaining reviews
Create a link for customers to write reviews
Keep in mind, when we say: get and reply back to reviews, we are not just talking about reviews on your Google My Business Listing, but rather, any other website that Google crawls and analyzes (including Facebook Business Page Reviews, Yelp Reviews etc.). Because Google combines all it finds for a given business website ranking.
Pro Tip for Google Map Ranking: When replying back to your customer's feedback, make sure to also include your important keywords that you want to be ranked for in Google Maps
Must Have Profile for Top Ranking in Google Map
In previous years having a profile in Google My Business was an option but not a necessity. That is no longer the case because today you just have to use it for getting top Google rankings in Google Local Business search results (including Google Maps ranking results as well). Most small business owners do not bother to thoroughly complete their business profile, make sure you are not one of them.
How to Rank in Google Maps With Search Engine Optimization of Your Local Business Website
SEO may not be what you think it is, and it definitely isn't placing some important keywords in the URL, Title, Meta Description, links and textual content area. Only beginners do SEO along those lines.
Instead, use more advanced techniques such as intelligently using keywords through internal linking, optimize images, and add Structured Data. Ideally, your ultimate aim is to obtain higher conversions. Here's Local Business Schema Markup example. You can also visit Google Search Gallery for more samples such as Local Business Schema Markup which can compliment your business website particularly for its knowledge graph.
Remember that everything you do online helps Google connect your business information together.
Embed Or Share Google Maps URL
On your contact page of your website, you can include a link or embed Google Maps showing location information for your business. And as your business website grows and people share your content, they will also be sharing the links within the content, especially when you link back to your Google Map Listing.
As you market your business on internet creating profiles and business details on external sites, you can also Embed Google Map Listing as well as provide a link to Google Maps URL on those external sites as well. The most important element to remember about content marketing is that it has to be done naturally and in a timely manner.
That means No Quickie like hiring so called Google Local SEO Experts spamming Google with their software programs, or changing their IP locations when getting citations or creating free websites for linking. As you know, the road to success is through hard work, and only hard work will lead to true lasting success, be it online or in life.
What Not to Do for Google Maps Rankings
Do not buy backlinks
Do not get services for Google Maps Citations
Do not use software for Google Maps Citations
Do not use services that promise to create business listings (even if they say uniquely created, manual work)
Do not hire SEO guru's that promise guaranteed Google Maps Ranking results
Do not use the same profile over and over in external sites (although most business details will be the same (e.g. address, location, phone number, business name) it is your job to make sure that you create professional listing with unique enough details)
There is Always Better Ways to Rank in Google Maps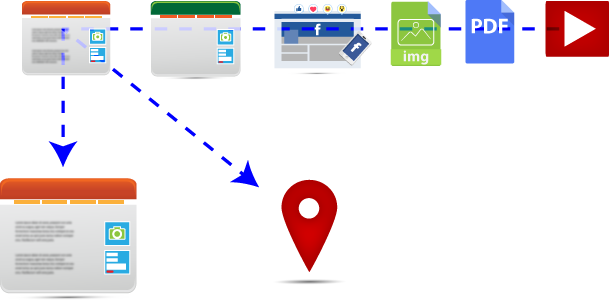 Carefully look at the image above, you can see that different types of content can be used for backlinking. But did you know that you can link back to your Google Maps URL or even GMB photos? Whether its Google search results, Google Local Business results or Google Maps results, its just Google rankings because Google's ranking algorithms combines EVERYTHING it finds about your business on internet.
Video Tutorial on How to Rank a Business in Google Maps Results
The most important factor to remember when performing optimization and marketing for top Google ranking outcomes, be persistent and also patient when marketing your business online. Do the right thing because its the right thing to do. Improve your local ranking on Google