Select long tailed keywords specific to your industry, create content according to those keywords, optimize it using RankYa SEO techniques, rank in Google fast. Search engine optimization is as easy as that.
Just starting out online? Been tinkering with search engine optimization for your business website's growth? In either case begin here Search Engine Optimization SEO Starter Guide, but if you already read that, then:
Keep in mind that this blog post is an extension to SEO Tutorials related blog post we've created previously making SEO even simpler for beginners.
<a href="https&colon;//www.rankya.com/seo/seo-tutorials/" rel="prev" rev="next" title="SEO Tutorials">SEO Tutorials</a>
SEO and HTML are tied together. Although you do not need to learn HTML to see great Google ranking results, understanding the basics are important. For example: since Google rankings analyze web pages and links. Its wise to learn how to take care of both for SEO purposes. The link above used reverse link. Surely you do not need to update your entire website links, but realize what that single piece of code has done?
It created a relationship between a web document. That is what you do on your website navigation structure, you create link-relationship. SEO lesson to take from this is when linking your web pages, make sure you link your most important pages more so than the others.
Lesson 1 SEO Core Techniques
When it comes to ranking keywords in Google, everything begins with keyword research and targeting. If you are an absolute beginner learning about search engine optimization for the first time, or just launched a new web site and heard of RankYa, then, start your website optimization by selecting long tailed keywords (keywords made up of 2, 3, 4, 5, 6 words).
Not just because they are easier to rank in Google, but rather, they will allow you to build momentum bringing in targeted website traffic and profitability for your business website.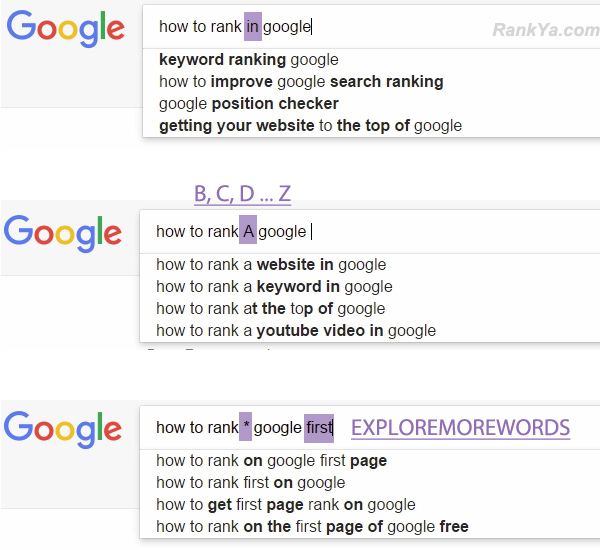 Above is an image that shows you how to quickly find those keywords using Google search engine's keyword prediction. All you have to do is experiment with typing in your industry specific keywords in Google search box.
SEO Lesson 2 On Page Optimization
This is rather easy because looking at the keywords you selected, all you have to do is create content answering those questions. Because keyword targeting is almost always is answering questions. Let's do it. RankYa website has great resources for SEO Tutorials for Beginners. That's because there is useful and unique content for landing page optimization like this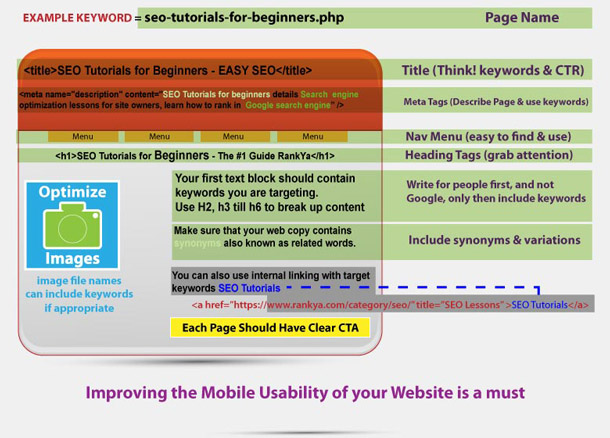 You can also download the PDF version here
Search Engine Optimization Lessons for Beginners
So far we've covered the simple beginner guide for search engine optimization. By just using these insights so far you'll get measurable Google ranking results.
However, the complex side of SEO is the technical side of optimization. This includes skills and understanding HTML, Cascading Style Sheets (CSS), PHP, Web Development, JavaScript, Server Technologies, Structured Data to be able to dive deeper in to web site optimization. However, to make your visit worthwhile, let me also teach you this simple technique called outlinking.
Use Outbound Linking for Higher Google Ranking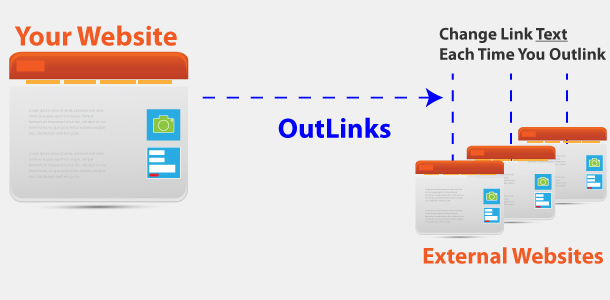 As highlighted in the SEO PDF, links are important optimize because Googlebot follows and analyzes anchor text. You may have even heard other people talk about backlinks help in SEO. But what you may not have heard is outlinking (or also called outbound links).
When you create links (navigation menu, footer links etc.) on your own website and link them only within your own domain, these are called internal links.
When you link to other domains, Google crawling and indexing process will also follow that outbound-link from your website and then create association between your website and the external web site being linked to. This is what Google tells us:
We use software known as web crawlers to discover publicly available webpages. Crawlers look at webpages and follow links on those pages, much like you would if you were browsing content on the web. They go from link to link and bring data about those webpages back to Google's servers
That means, you can easily find external websites that compliment your content and link to them. Critical aspect here is to make sure that you are not directly linking to your competitors as that would deplete the purpose of trying to achieve higher Google rankings. Nonetheless do not shy away from linking out towards other websites, because doing so will also help your own keyword rankings.
SEO Tutorial Core Techniques for Higher Google Ranking Video Lesson by RankYa
Get Quality Backlinks for Higher Google Rankings
Backlinks are links pointing back to your website from external websites. Usually, when you follow RankYa SEO techniques targeting long tailed keywords first, you probably do not need backlinks. Because your search engine optimized content will be ranked in top Google position easily which in return allow greater potential to get your own website visitors to share that content you created on your own website. That's another reason you would want to begin with long tailed keyword targeting.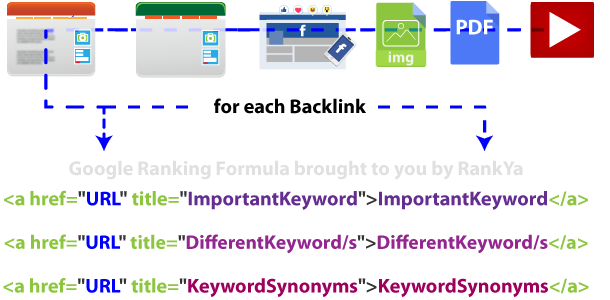 Since backlinks are important to rank competitive keywords, you can share any type of content you created on your own social profiles to reach a wider audience. Use share buttons and plugins to make it easy for your website visitors to share your content. Encourage and entice your website visitors and even friends to share the content you created.
SEO Tip: when you think of content, remember, we are talking about almost everything on your business website. Blog Posts, News Articles, Images, Videos, PDF Documents, Microsoft Word Documents, Text Documents etc. Furthermore, when sharing PDF documents make sure to include a backlink within the document.
If you are a small business owner serving your local community, then popular places like Yelp and others allow you to create a profile with your company information. When you do use such marketing opportunities, your business profile should be unique as possible. To be able to rank higher in Google Maps, you can also link to your own website (home page, about page, contact us page) and also Google Map or even Google My Business photos.
Critically, do not be tempted to buy backlinks for SEO purposes because doing so is against Google link schemes guidelines, because buying backlink won't help ranking keywords, instead spam backlinks will negatively affect your Google rankings in the long run.
Core Search Engine Optimization Lesson — Video Lesson by RankYa
Basics of search engine optimization is outlined above, there's no doubt it will help you achieve top Google rankings. Subscribe to RankYa mailing list or YouTube channel as I simplify Google, WordPress, Search Console, Structured Data, SEO and Online Marketing.