As always taught in my SEO Tutorial for beginners, at the heart of search engine optimization is Google Webmaster Guidelines coupled with simple to use landing pages. This is still the same today. However, in terms of changes, here are RankYa's top 3 focus areas that you need to focus on to get higher Google rankings for your keywords. Check out the latest revamped SEO Starter Guide by Google. Then focus on Page Experience.
Mobile First Index
Speed of Page Load Times
Mobile Usability
Simplified Lesson for Understanding Mobile First Index
Mobile-first indexing means Google will predominantly use the mobile version of the content for indexing and ranking. Source
The keywords there is the content for indexing and ranking. But unknown to many SEO experts, the content isn't keywords nor images, but rather, entire HTML. Meaning whatever is within <html>tags are your content. How to use your new found SEO power? Simply understand that whatever you see on your landing pages using your mobile phone is your content. This includes, keywords, headings, images, colors, margins and paddings between HTML elements, links and anything machine readable by Google including structured data.
Speed of Page Load Times
No need to be scientist to understand that when people use mobile devices, pages that take a long time to load means, visitors abandon landing pages, which in return means bad user experience. Both from Google's point of view (since Google is providing a service to its customers (searchers)) and also your business growth point of view (lost visitor = lost potential profits).
Mobile Usability
This is rather confusing for most web developers and designers, meaning, mobile usability does not mean how a web page looks on a mobile device, nor does it mean how many clicks before a conversion can occur. It simply means, simplicity and usability. For example: when clickable elements are too close to each other on a mobile device because people use their fingers to navigate and scroll (as opposed to their computer mouse) then, usability of that landing pages is bad. Your job is to find balance and adhere to proven best practices. Google Search Console is your friend once again, make sure Mobile Usability report does not show any errors
Search Engine Optimization Tutorials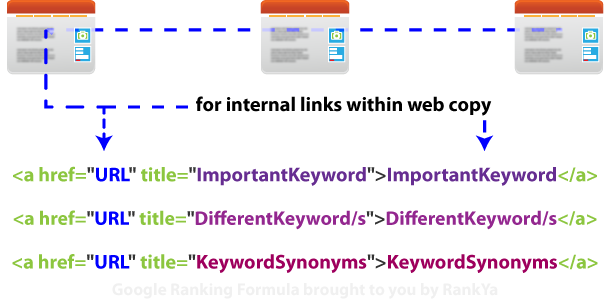 Let me share couple of tips and insights for you to consider using for achieving higher Google rankings. Use this whether you have a small business website or an eCommerce store. When linking within web copy (blog post, product description or any links in the body area) use different keywords from within internal links.
For example: let's imagine that I want to rank for keywords SEO Tutorials. Then, dependent on Google rankings position upon publication of this blog post. I can using my future blog post internal link back to this particular blog post using these types of keywords within the anchor text:
search engine optimization tutorials (is synonym)
search engine optimization tutorial (is synonym and is singular)
Latest SEO Lessons (is variation of tutorial)
When Google analyzes the web page, none of the above keywords are the same, and yet, they are exactly what I want Google search engine to rank my website for. Understand that, and I promise you that your Google rankings will skyrocket within days. Do you love RankYa now 🙂
Core SEO Insights and Search Console Performance Reports
SEO Video Tutorial by RankYa Subscribe on YouTube How to Do Local SEO
Does Google show negative information about you?
How to Remove Content from Google ☄