It never ceases to amaze me to find other websites that are somewhat on the point when it comes to search engine optimizing websites, however, most SEO experts fail to understand the importance of usability of websites and presentation of content. This is no longer the case with Search Console Core Web Vitals as it will eliminate fly-by-night SEO Guru's who usually spam Google.
Begin here Search Engine Optimization (SEO) Starter Guide because the insights are provided by Google. Then, understand the important of keywords and the intent behind each word you target.
Keyword Research
Learn to do keyword research and begin targeting longer keywords to see quicker Google ranking results. Create a pool of keywords (highly competitive, medium level competitive and low-level competitive) using Google keyword planner tool.
Some people may suggest to you to use other paid keyword research tools, however, you actually don't need to use others because its Google who gets searched billions of times where as others are just programs that usually stem/extend words. Also, another reason to keep your money in your pocket is the fact that most paid keyword research tools actually tap in to Google to obtain the keywords.
Remember, although you'll be targeting many keywords where some will be 4 or 5 words long, as far as Google rankings are concerned, optimize your entire website thinking just 1 word (as in, teach Google 1 word at a time).
On Page Optimization
This is almost 80% of SEO, meaning, once you create content for real people, then comes the part where you say to yourself, okay, now that I created this great content answering the questions I've identified as keywords to target. How can I make search engines better understand that content. And you do that through on page optimization like so: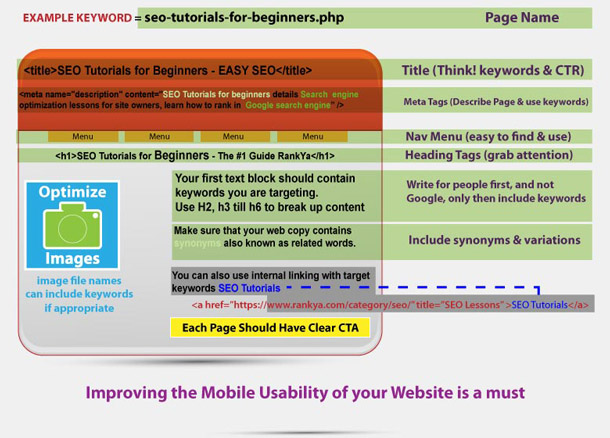 On Page SEO guide (PDF Version) download it and keep it as a guide.
Now you see how simple it is, but the fact is, there is also a technical side of website optimization. Focus on improving mobile usability of your website making sure that it loads fast. You can hire SEO experts like RankYa or others to handle technical side of SEO.
Easier SEO
Most popular content management systems such as WordPress have premium themes that are modern and mobile friendly. Instead of hiring others to re-do your website if its not mobile ready. You can invest in a premium Theme that is simple and mobile ready.
Then, focus on speeding the page load times for providing better user experience for your website visitors. Learn how to speed up WordPress if you are using WordPress CMS.
Although structured data currently is not part of Google ranking algorithms, it will indirectly help your website to perform better in search.
For example, search gallery, or knowledge graph for Local Businesses will aid in getting higher click through rates (A ratio showing how often people who see your ranking results end up clicking it), the higher the click through rate means more potential for sharing your content, which indirectly will help your Google organic rankings.
So once again, although structured data is not part of the actual Google ranking algorithms, it is extremely important to use on websites.
Search Engine Optimization Tools
There are countless SEO tools on the market, most will just waste your time, however, you should definitely start using Google Search Console. Especially when Google has been making great changes for easier diagnosis of your website's standing in Google. I've created a full Search Console Training videos here
Above all else, remember that SEO is only one part of online success equation. Your ultimate aim should not be to rank for few keywords (although that would be great), but rather, you should focus on building an authority website in today's digital marketing world. Because those who fail to become the resource site for their niche will find it harder and harder to rank and also to compete online.