There are many ways to rank keywords in Google search engine, and I have covered most useful keyword research and ranking strategies on various blog posts and videos. However, in today's SEO insight and keyword ranking strategy, I'm going to reveal something most website owners aren't even aware of, or they are but not using it.
Keyword Selection and Targeting
If you know anything selecting keywords and or search engine optimization, then, you already know how to use Google Ads Keyword Planner Tool (if not, make sure you check out how to do keyword research video later). But what you may not know is the critical online success factor (including organic Google rankings) called 'indirect keyword targeting'.
What is Indirect Keyword Targeting?
Indirect keyword targeting is identifying search terms that are likely to be asked through search engines, keywords that aren't your main root keywords but rather are indirectly related to your products and services. For example:
Lets imagine that you are offering car rentals in a holiday island Hawaii. Naturally, web site optimization for keywords such as 'car rental Hawaii' seems like a great idea to bring in targeted website traffic through Google rankings.
However, what if the holiday makers from UK are looking for information related to "car seat laws for babies in Hawaii" because they are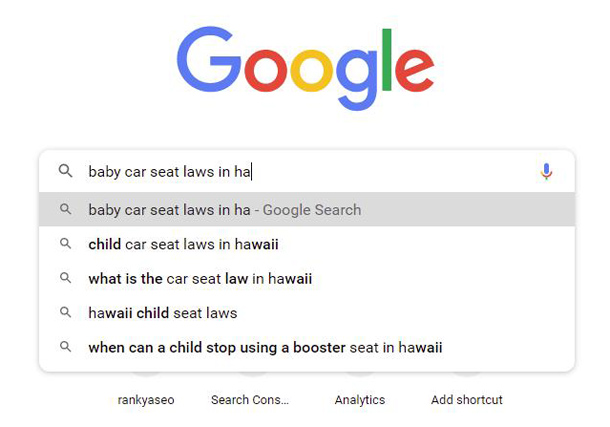 Another Example for Indirect Keyword Targeting
Let me demonstrate the importance of indirect keyword targeting. Let's imagine that you are offering 'wedding photography services'. And the bride to be maybe exploring great landmarks or nearby parks for "wedding photography locations SUBURB"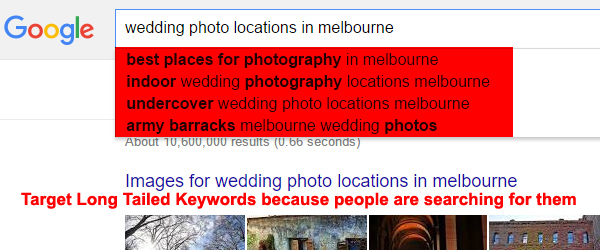 Or if you a have service repair business for "air conditioning BRAND" then, why not provide user manuals for the products available.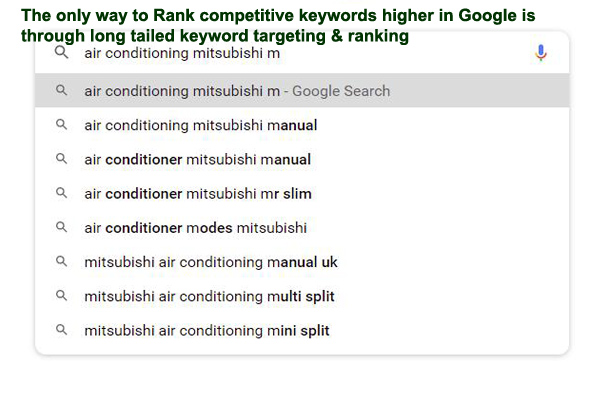 The mistake most website owners make is to just select and focus on ranking competitive keywords only, but as you can see in the sample examples above, people are also searching for related things. That also means that your potential customers are also looking for this type of information.
Furthermore, without targeting long tailed keywords and internal linking those web pages (or blog posts) to your most important web pages, you can't rank in top Google position for competitive keywords.
How to Rank Keywords in Google
Techniques for ranking your keywords (whether, competitive root keywords, long tail keywords or indirectly related keywords) needs to follow on page optimization factors. Basically, to be able to achieve long term online success and first position keyword rankings, you have to be able to answer the questions (search terms) people are asking. This will help in guiding Google to better crawl and understand your entire website and its content.
You Too Can Grow Your Online Business with Indirect Keyword Ranking
You see? It really doesn't matter which industry your website and online business is competing in, there are many keywords which you can select, optimize your web site for, and rank keywords in Google very easily. Not only that, I'm more than confident in knowing that most of your competitors aren't even aware of this strategy. Really, you can rank long tailed keywords within days (or even within 24 hours if your website is large and accessed by search engines often).
Keywords that are indirectly related to your main keywords must be part of Search Engine Optimization. Start by identifying related keywords and create content accordingly.