Have you been looking for ways to rank your keywords FAST? If so when thinking about ranking keywords in Google, all you have to do is, first identify keywords related to your industry by conducting thorough keyword research. Once you identify some keywords to target, then simply know that to rank keywords quickly, all you then have to do is provide relevant content while using your target keywords on your landing pages.
To be able to get fastest possible ranking results, you have to analyze Google Search Console Performance reports and find out which keywords your website is already ranking high in Google for.
Then, identify long tailed keywords and target them first. Remember, although you could get many backlink and perhaps even see overnight keyword rankings, you should at all costs avoid using SEO techniques that are against google guidelines.
Procedures for Fast Google Rankings
You can rank keywords per your web page
You can rank keywords through your blog
You can rank long tailed keywords quicker
You can then use those web pages you ranked long tailed keywords on to rank your money making pages
There are no other ways for Google rankings
Create Content for People and NOT Search Engines
Once you have your visitors best interest at heart, and created that useful content. Next step for fast rankings is through using keyword insertion which should be focused on on page search engine optimization elements being in place to see timely ranking results.
What that means is, once you complete creating your web copy communicating your products and services, then on page SEO has to be done by having your keywords in the right places to guide Google to understand your web page content. Simply, take a closer look at the simplicity of getting all of your on page ranking factors in place as shown in this image below: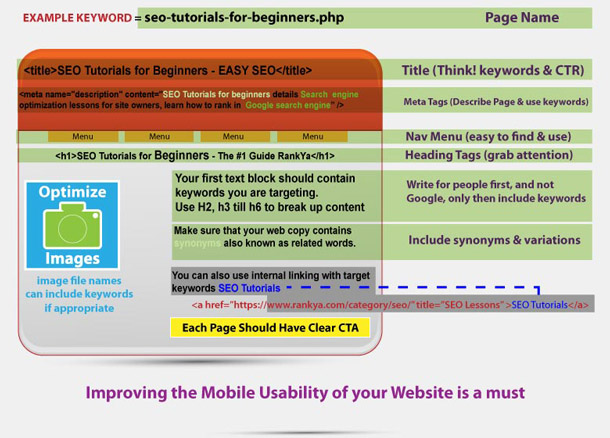 Get Ranking for Your Keywords Quickly
Now, if you study the image contents above, then you will see that placing keywords to rank for, on important HTML elements are important for Google to understand what the web page it is analyzing should be ranked for. Make sense?
How About Rankings for Highly Competitive Keywords?
Because Google search engine follows links to further analyze and rank keywords, if your target keywords are highly competitive, then, you will require to content market externally. And within that content you market (whether social media marketing, guest post, or PDF document or anything else you can market for your niche) you will need to include a backlink to your pages (or blog posts) and in the anchor text include your keywords (make sure that for each backlink, you diversify your anchor text).
As you can see, SEO and keyword rankings are so simple when you have someone who explains and simplifies the whole process of keyword rankings. For more advanced how to's by Rankya, simply share this blog post with other website owners.