Another new and exciting year is just around the corner, and as always those who are starting to learn about search engine optimization may ask how to SEO?
First Rule to Learn About SEO
1. Follow Google Webmaster Guidelines and read through the latest search engine optimization starter guide
Google has strict guidelines for website owners, basically, it requires that you create mobile friendly website and make your web pages easy to use and also accessible for Google search engine crawlers.
Basics of On Page SEO
2. What better way is there to learn Search Engine Optimization when Google itself tells you what to do. When you're interested in improving your site's appearance on Google Search, this you must learn with getting started for beginners guide.
First you create targeted content, for example: if you are blogging, you could create a content about how your day was productive. Or, you could create content around keywords which are searched by your ideal audience. And you can do that thorough keyword research to find what your potential customers are searching for.
Targeted and Optimized Content Creation
3. Also explore Keyword Research using Google Keyword Planner tool because it will then allow you to group set of keywords which you can begin optimizing your website for.
Then you create content according to the keywords you grouped together. But critically, realize that your website must present that content so that it is easy to use on mobile devices. Investing in improving landing page usability not only will help your Google search engine rankings, but it will also help your website conversion objectives.
Here's How to Do on Page SEO
4. Optimize Landing Pages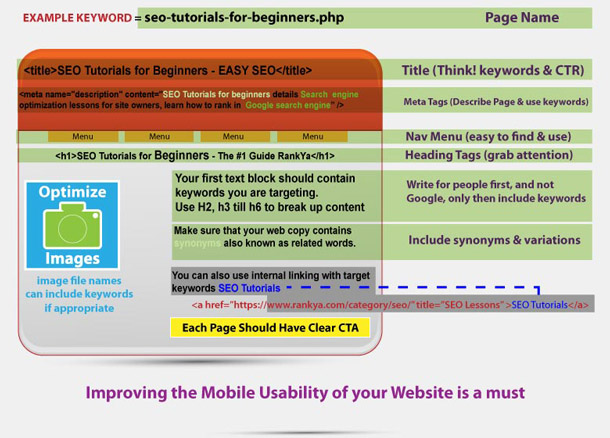 As you can see in the above sample, search engine optimizing your landing pages will require the insertion of keywords on HTML elements so that search engines can determine what the content is about by analyzing keywords and web page structure.
Mobile Device Compatibility
5. Create a Mobile Responsive Website that works well across all devices (Laptop, Desktop, Smartphone, iPad etc.). Mobile web lessons learned from analyzing websites at scale
Your website must be fully accessible on mobile devices and smart phones because Google is heavily targeting mobile device market and will reward websites that are mobile ready & friendly.
Keep in mind that just because your website passes the mobile friendly testing tool doesn't mean that its mobile friendly. Instead, conduct usability testing on mobile devices and see the interaction a typical visitor will have when using their mobile device.
Google Web Developer Tool Mobile Device Emulation can be used for this purpose.
Mobile User Experience Meets Speed
6. Today with Google Page Experience and Core Web Vitals reports criteria must be met. What Google wants is fast (lighting fast when we are talking about 2.5 second as a guiding number) loading web pages. That means, you can and must optimize for speed and improve usability of your website for mobile device usage.
When you follow the insights above, then, you can rest assured knowing that your website uses just one version, is fast loading, and, provides better user experience regardless of the device used by your website visitors. That means, focus on mobile usability and load performance for just 1 version of your website.
Structured Data for SEO
7. Add Structured Data for SEO
Because major search engines now support and understand schema markup structured data. This basically means that you can and should make sure that your web site is fully structured using either schema.org Microdata or JSON-LD.
As these are SEO trends for today's Google ranking world, mobile usability and page load speed optimization will reward your keywords to achieve top Google rankings.
Always remember to create content that your ideal audience may eventually search online: how to's, manuals, guides, where is the address for certain nearby landmarks, what is, why is, how does, type of questions are a great way to build long term success as well as get top Google rankings for competitive keywords.
And that's what everyone should focus on becoming the authority / resource website that is fast loading, and its mobile usability is better than competitors.