If you are not seeing the instant search feature of Google search, then, realize that it is now discontinued. Major shift in Google search is that its focused on Mobile usage. Here's what's said by a Google employee at webmaster forum
We launched Google Instant back in 2010 with the goal to provide users with the information they need as quickly as possible, even as they typed their searches on desktop devices. Since then, many more of our searches happen on mobile, with very different input and interaction and screen constraints. With this in mind, we have decided to remove Google Instant, so we can focus on ways to make Search even faster and more fluid on all devices.
Instant results made searching very easy in terms of Google providing suggestions for you, so you didn't have to keep typing and typing or keep pressing the Enter key.
Core Features in Google Instant Was
Dynamic Results – Google dynamically displays relevant search results as you type so you can quickly interact and click through to the web content you need.
Predictions – One of the key technologies in Google Instant is that we predict the rest of your query (in light gray text) before you finish typing. See what you need? Stop typing, look down and find what you're looking for.
Scroll to search – Scroll through predictions and see results instantly for each as you arrow down.
Instant Search allowed you to quickly find interesting results with less typing and keyboard pressing because Google tried to predict the results and present them to you in real time. For SEO's it meant that within couple of minutes, you could get an idea for keywords right through the Google search box for you to target, this was a great time saver because it saved you from typing and pressing on Enter key.
This discontinuation of Google Instant Search prediction in terms of keyword research, selection and targeting is a huge disappointment for search engine optimization specialists because as you tinkered with the search box of Google, you could find great predictions for keyword stemming as well as finding long tailed keywords, quickly.
Sample with Google Instant Search Feature
These instant suggestions will continue to appear under the search bar while you type, however, you now need to select one of them or complete your search query in order to see the search results as opposed to Google changing the results as you typed.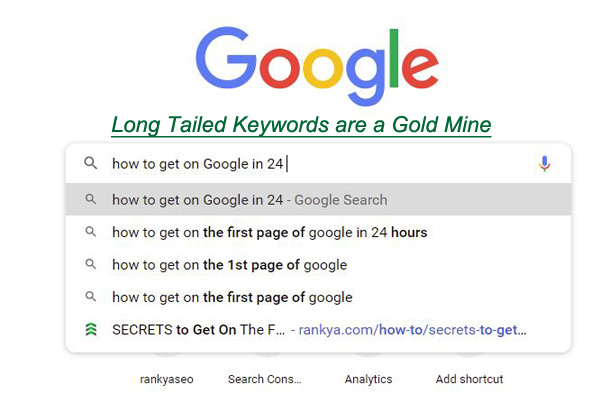 How Search Predictions Worked
Search predictions were generated by an search algorithm automatically without any human involvement. The algorithm worked along these lines:
Based on several factors, like how often others have searched for a term.
Designed to show the range of information on the web. You might see predictions related to a variety of popular topics.
Autocomplete Settings
Autocomplete is still available using Google Apps
Open the Google app on your mobile device.
At the top left, tap Menu and then select Settings and then tap Auto-complete option
Tap the switch to turn "Show trending stories" on or off.
Now That Google Instant Search is Not Working
Remember, Google is all about mobile now. But all is not lost to quickly find great keyword ideas (particularly finding long tailed keywords which are simple to rank in Google using RankYa SEO techniques)
For each search query pattern you enter in Google search box, you can still use the common search patterns for finding longer tailed keywords. For example: how to, what is, where is, what does, do I, does it, how does and any other keyword you can think of that would be searched for your niche.
Take a Look at What Others Have Asked Feature

Because search engines including Google is moving towards dominating mobile search market. As a result they've now introduced this new People Also Ask feature.
Whenever you see other search queries shown in Google search as People Also Ask, then consider if you too can answer those questions. Keep in mind to not think too much about others having that content already. Because you can create better content, coupled with RankYa SEO techniques will ensure you outrank them all.
Another absolutely important consideration we need to make about People Also Ask feature is that, it is related to the search query you began the initial search with.
Depending on your niche, you could even create a single blog post and target all those People Also Ask search queries using HTML heading tags.
Always Use Google Keyword Planner Tool
Regardless of the reasons you are conducting a keyword research, no keyword research can be complete without using Google Keyword Planner Tool to find keywords and what amount of searches per month you will gain when ranking in Google.
Google Related Searches Still is a Gold Mine for Keyword Targeting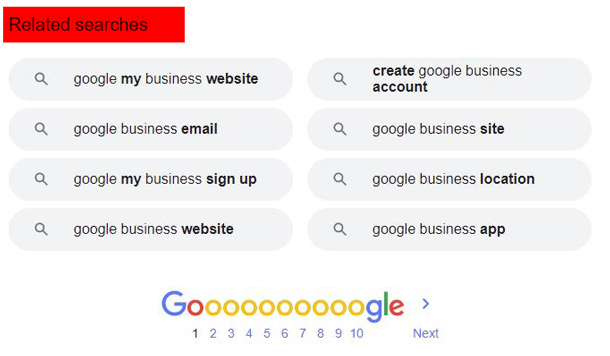 Each time someone conducts a search using Google, here's the results breakdown
Google shows some Ads on top of the screen
And then 10 organic results below those Ads (in Desktop view) (on mobile devices, till 'Show More').
Recently Google has also been tweaking instant answers with Rich Results (that's where Structured Data inclusion for your website is important) through many Google app options right inside the search results page.
Lastly, Search Related to "sample search query"
Looking at what Google shows per results page, someone may not find the answers they are looking for, thus, they scroll down the page. Google's philosophy there is, if a searcher hasn't found the answers in what it showed, then, perhaps guide the searcher to search for something else Related Searches.
This search feature has always been welcomed by SEO experts because Related Searches (you can explore Google Trends as well (great for AdSense and affiliate marketing)) can sometimes show long tailed keywords which are not easy to find using Google Ads Keyword planner tool.
Not easy to find, yes, but very easy to rank in Google. Because long tailed keywords can be ranked usually within 24 hours.
There are many reasons for targeting long tailed keywords, for instance: it helps increase keyword count throughout your website, it allows for internal linking opportunities, it helps you to answer your ideal audience's questions (which are often neglected by your competitors), it helps built authority on internet, it can help rank your competitive keywords as well.