Update: Google basically has forced the hands of content creators with its new Page Experience update. That means, adding EXIF Data to images should only be done when required and on websites already loading fast.
Knowing Google is also an image search engine, and how images play an important role on internet means that optimizing images are critical. But not just for ranking images higher in Google image search results, but rather, for providing better user experience for your website visitors.
Furthermore, optimizing image files to rank higher in all Google products (web search, product search, image search, Google Maps search etc.) will help you get even better results online.
First, begin to understand Google Images best practices. Because now, due to the New Google Search Console Page Experience and Core Web Vital requirements, all web pages must load fast enough for mobile devices. Because images are part of almost all webpages, they are also a heavy burden for page load times. That means, fast load times must first be considered when optimizing images.
Long gone are days where you could just use basic image optimization techniques. Because search engines like Google are highly advanced to a degree that they can even understand what the image shows using machine learning and Vision AI.
When using images on your web page, remember that Google analyzes the content around the image as well as the landing page itself. That means, you can and should make your images work to reinforce the meaning of the words you are targeting.
Someone asked Google at Google Search Central Blog
Q: What happens to the EXIF, XMP and other metadata my images contain?
A: We may use any information we find to help our users find what they're looking for more easily. Additionally, information like EXIF data may be displayed in the right-hand sidebar of the interstitial page that appears when you click on an image.
If Google can additionally display EXIF data attached to images, it can surely read them as well. And since Google walks a fine line regarding License and Copyright of content it displays, it has to read through some digital information within image file names (for example: which camera was used, location, Copyright etc.).
Image Optimization Basics
I'm not going to bore you with normal image optimization methods because I've already created insights for basics of image SEO.
Don't Forget Google Image Search
Since Google is also an image search engine means that you can use Google Image Search and experiment with some keyword ideas using its search box to see what people searched for when looking for images. Then, blend those keywords with your image file names as well as alt attribute, title attribute or even within caption or figcaption.
If you are a content creator (or a business owner such as Photographer) you can insert additional information including the IPTC Photo Metadata and licensing information.
Keep in mind that you optimize your website images once, and then you'll begin to enjoy the benefits for many years to come for your Google rankings. Because you won't believe your eyes when you are seeing the difference advanced image optimization can make for your website's results. Just look in Google Analytics traffic increases as soon as Google is aware of your newly optimized images.
Do not make an honest mistake thinking of image optimization as a seperate or different compartment of SEO, because in terms of Google rankings, everything (content) is combined together for ranking evaluation (this also includes images on websites).
Image SEO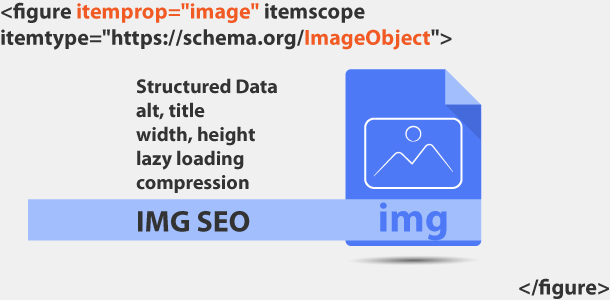 If you are creating your own images, you can insert text according to the web page as well as keywords you are targeting on the image itself. Simply visit Cloud Vision API and upload a sample image from RankYa website to see what the tool shows you.
Also, remember that keywords around your images play a role in ranking. This really doesn't matter for RankYa fans because when you follow my on page optimization techniques, you will by default include keywords in all the right places.
Recommendations for Image Optimization