You login to Google Analytics and are confronted by DATA that can bury you and by the time you try to wrap your mind around what and how you can use your Google Analytics data you are overwhelmed.
That was me many years ago, but I haven't given up on learning this most advanced website user interaction analysis tool made available for free to the masses. But out of all that you can analyze, I believe this one method is either not well known, or, it is not talked about much.
Google Analytics Tips and Tricks for Keyword Rankings
Here's a brief explanation on how to target keywords if you don't know how to as of yet. But if you do, then, realize that Google is already ranking your website for certain keywords.
Since Google rankings work on single keyword, means that instead of trying to target more and more different keywords, learn to create content around the keywords Google is already ranking your web pages for.
For example: How to rank keywords fast is one of the long tailed keywords I targeted and I know by Analyzing Google Analytics Data, Google is ranking my website high for these search terms. So instead of targeting completely new set of keywords, I should focus on targeting keywords that are lingering in 4th 5th till 9th position in Google Organic Rankings to move them higher in SERP's.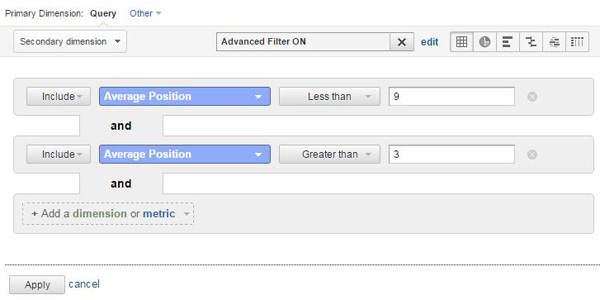 Basically, the trick is to look at the data in your Google Analytics > Acquisition > Search Engine Optimization > Queries (and select Advanced Filter > Include (Site Usage) > Average Position > Greater Than 3 and then add another metric and ask for Average Position > Less Than 9 (you can even ask for impression counts as another metric). Basically analyze the results and find keywords your website is strong in Google Rankings for.
Then, your next blog post creation can and should focus on targeting similar keywords (couple that with better internal linking assures that those keywords that are lingering in 4th 5th till 9th position in Google Organic Rankings are boosted giving you higher impression share.
Here's the Video Which Details These Tips and Tricks for You
As you can see, instead of just targeting more and more keywords that are not related to one another, you can now target similar keywords that you can easily rank higher in Google.