On this blog post I will provide insights for websites that are already indexed and are ranking high on Google search engine. Easiest way to rank higher in Google is to first determine what it values on the website, and then begin with creating related / complimentary content. Let us begin with the basics.
Search Engine Ranking Definition
There are two ranking options in Google, one is ranking high for Google Ads Pay Per Click (PPC) advertising, and the other is for ranking organically.
Think of PPC advertising similar to print media newspaper ads, which would require payment for displaying ads
Think of organic rankings as efforts you make by search engine optimizing your website so that your website details show up in Google organic ranking results.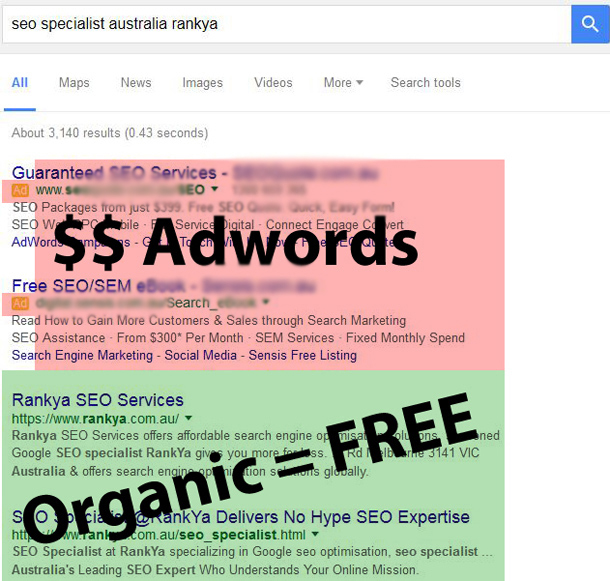 Can You Pay Google to Rank Higher?
No, you can NOT pay Google for higher organic results. Whether you are advertising with Google Ads or whether you are doing on page SEO for top Google rankings. Google does NOT accept any money, from anyone, to manipulate its organic ranking results.
Google Ads: considers a metric called Quality Score which determines rank position
Organic rankings: are determined algorithmically depending on the relevance of your website according to particular search query (keyword/s)
Note: you can learn a great deal from Google Ads Quality Score when optimizing your own website
Google Search Ranking Checker
There are many tools that claim to check a website ranking in Google, but none of them can be as accurate as the results shown in Google Search Console (free tool by Google) average position.
There is much that you can do for ranking higher in Google organic results, but the quickest and easiest way to accomplish higher rank in Google, is through creating engaging content that will be of use for your website visitors. Google will then take care of the rest.
Fastest Way to Rank in Google Organic Results
Brand new sites are actually easier to rank if the keywords have low to medium level competition. For fastest Google ranking results, you'll need to register the domain with keywords in the domain portion. Full search engine optimize it, also by stemming other searched terms from the keywords in the domain portion.
Ranking a Brand New Website Quickly
Choose a web hosting with Data Center located in your target location. Then, register the domain with keywords in the domain portion, and then create a new website (self installed WordPress CMS is better) that is fully optimized according to the on page SEO factors as detailed in the FREE SEO Course by RankYa. Link the new site with social media profiles and add your new site to Google Search Console. When done right, you should see free website traffic from Google within couple of weeks.
Optimizing an Established Website
If a website is already live online and is already getting some website traffic, and now want to improve the organic rankings, then, you can change everything on a webpage as long as the URL doesn't change.
For example: lets imagine that a webpage is ranking in 11th position (which is on the second page of Google organic rankings). You could change everything (but the URL name) that page and optimize all the on page search engine optimization factors thoroughly. Then, from 11th position you will see higher ranking results as soon as Google revisits the updated version of that webpage. On Page SEO Checklist PDF Version
Video Explaining How You Can SEO Your Web Pages for Higher Google Rankings
Ranking higher in Google can also be achieved by creating new content that are similar to the ones Google is already ranking you higher in its results set. I created a video that explains this process using Google Analytics metrics for average position that lingers in 4th till 9th position for search queries that have high impression count.
At the end of the day, the best way to rank in Google is by identifying keywords that people are searching for, and creating content that answers those search queries.
When a website is new, then begin targeting longer tailed keywords, if your site is already performing in Google search, then, continue publishing fresh and engaging content, and learn to shape/sculpt link power through internal, external, and outlinking web pages.
These are proven SEO tactics for top Google rankings, and will serve your business website well.
Free SEO Course Category