Caution should be given to the reader about using WordPress noindex nofollow settings as these settings guide Google about what part of your website, and which links on your WordPress site that it can index and follow. Because getting this right can benefit your web site, but getting this wrong can make your site (or parts of it) disappear from Google search results as well. Learn more here Block Search indexing with noindex
Also the reader should be informed that this particular blog post about nofollow and noindex is an extension to the how to noindex in WordPress blog post by RankYa. Let's begin learning better ways to use these meta tags for our WordPress site.
You already know that large search engine companies such as Google is a multi-billion dollar business. But how did it start making money by just showing links to other peoples website? Google initially had NO Content of its own, it was just a search engine. To circumnavigate all the complaints some website owners made and to circumnavigate all the copyright laws, many search engines now obey Robots Exclusion Protocol.
The WordPress no index no follow Settings Google Doesn't Clarify
Google suggests to have quality, original and useful content, but not thin or duplicate content. Not everyone uses WordPress CMS, and because if Google suggests something, almost everyone will get it wrong regarding noindex directives.
So we need to then ask: do we really want parts of a WordPress built site to be indexed by Google when those very parts of WordPress either have NO content or thin content.
These parts include but not limited to: pagination, tags, date archives since these parts of WordPress are not unique at all.
This is critical to understand > if Google tells website owner to avoid thin or duplicate content on a website > is not WordPress paginated URLs or Tag Sections or Archive URLs thin and or duplicate content? In fact, 99.9% of WordPress built sites have no original content at all on such URLs.
Therefore, some parts of WordPress built sites are definitely not unique. Those parts of a WordPress site do not need to be indexed by Google. Those parts dilute keyword relevance and also eats away your crawl budget.
Be a Smarter Website Optimizer and Use These Codes to Your Keyword Ranking Advantage
noindex usage: Block search indexing with meta tags, and perhaps this could be ideal for WordPress <?php if (is_date() || is_year() || is_month() || is_day()) &colon; ?> no index meta tag can go here <?php endif; ?>
You would place your robots meta tag noindex using such PHP block in header.php file within HTML head portion, saying, hey when on WordPress date, year, month, day archive URLs, then, do not index. First evaluate what is unique on your website, then, noindex what is NOT unique. Tags, Paginations etc. I can't show you exactly which parts of your WordPress site you should noindex because each setup is different.
You can find out the List of Conditional Tags WordPress uses.
When I optimize my valued clients website, I work out exactly what is unique on the website, then noindex many parts, and I can confidently tell you that these parts are NOT unique on WordPress is_date() is_tag() and is_single() && is_paged()
For Google, use Googlebot as it will obey the user-agent rules set using Googlebot specifically.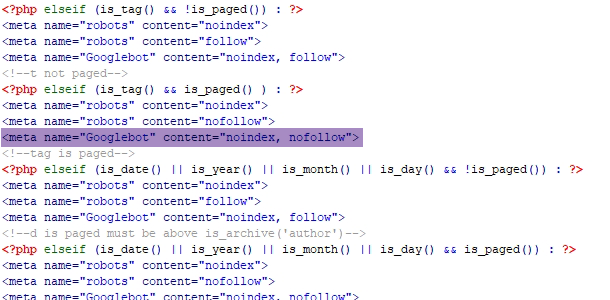 What Does NO INDEX Mean to Search Engines
When Google sees noindex meta tag within HTML head portion it means this to Google:
Hey, I just saw noindex directive meta tag for this URL, so I can't place ANY content on this Web Document in my index
What Does NO FOLLOW Mean to Search Engines
When Google sees nofollow meta tag within HTML head portion it means this to Google:
Hey I just saw nofollow directive meta tag for this URL. Then, I can not follow ANY link from this URL (menu links, internal links, external links, ANY LINK)
Knowing this, you can and should use noindex meta tags for certain parts of your WordPress built site. For example: tags, date archives, paginated areas all of which do NOT have unique content. Therefore, they are by default "thin non-unique content". Making sure that google does NOT index these parts will improve rankings because Google will NOT evaluate thin non-unique content these parts of WordPress generate.
Should You Use NO FOLLOW
You do NOT have to use nofollow as its mainly to do with crawling, which will only affect very large websites. For example: you would use nofollow if your website had 10000 web pages and Googlebot is causing issues with the web server due to crawling. Apart from that you don't have to use nofollow on HTML head portion.
But if you want to, you can use nofollow on links within the content area and NOT in HTML head portion. Such as comments, or any URL you do not want to associate with.
Easy Way to Use No Index in WordPress Using Yoast SEO Plugin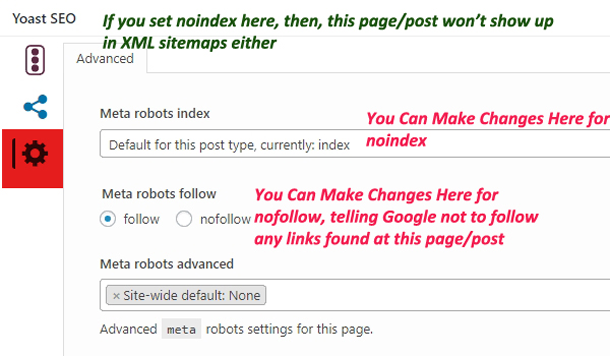 Luckily for you, there are countless WordPress Plugins which allows you to set noindex or nofollow directives.
Example usage: you've got a page for thank you, checkout, cart, or confirmation page for your website visitors upon subscription, purchase or contacting you. Then if you do not want search engines like Google to see that page/s, you can set Yoast SEO no index per URL basis. Meaning, if you are using Yoast SEO Plugin, you can easily tell Google to noindex a particular page (Yoast also will remove that URL from XML sitemaps as well (which is great)).
Best Practices for NOINDEXING in WordPress
Each website is unique, there are no best practices apart from answering which parts of my website is unique enough for me to let Google place the contents of that URL in its database for ranking purposes.
Meta Tags Settings for New WordPress Web Development Projects
Site-wide usage of noindex and nofollow directives are great for brand new web development projects, as it will make sure that Google and other major search engines do not index the development stage of the site till your new website is ready. To use it, you would simply place noindex nofollow meta tags in header.php file < head > portion of HTML. And when your website is ready to go live, you would remove those meta tags.
Search Console Index Coverage Issues
The latest Google Search Console has a new reporting tool called Index Coverage Issues which details if Google is having problems when accessing your website. Visit the following link to learn more about Index Coverage Issues as I outline how to's for fixing the common indexation problems.