Today with all the new changes Google has made (core web vitals) having a great web hosting has become even more important in 2022. Have you used or thinking of using either GoDaddy web hosting or HostGator products? Let's look at both web hosting providers more closely.
Video Review GoDaddy VS HostGator
GoDaddy
GoDaddy Inc. is an American publicly traded Internet domain registrar and web hosting company headquartered in Tempe, Arizona. They are one of the largest web hosting companies in the world and are gaining popularity in Australia as well. GoDaddy offers many online business related products (domains, windows and Linux web hosting, SSL, shared hosting and WordPress hosting). When compared to HostGator you are basically getting similar pricing and also customer service experience.
HostGator
HostGator is based in Houston USA and is one of the oldest operators of shared, reseller, virtual private server, and dedicated web hosting. When compared to GoDaddy they are almost identical in terms of prices and customer service. One main difference of HostGator is their service usability (straight forward and easy to use menu structure and account edit options).
Server Response Time GoDaddy vs HostGator
Although there are many factors that can go in to determining server response time, below screenshot is unbiased because both sample sites (GoDaddy and HostGator) were located in USA and I've pinged from Melbourne Australia. As you can see, they are basically identical in their response times. (URLs are omitted due to privacy reasons for my valued clients websites).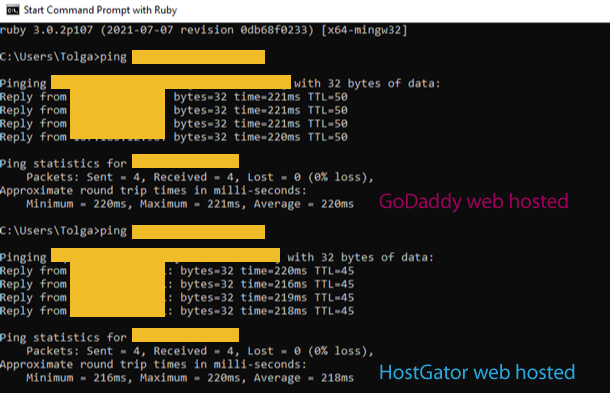 DreamHost VS GoDaddy and HostGator
Although not as known in Australia in 2022, DreamHost products are hands down much better compared to both HostGator and GoDaddy. Particularly DreamHost VPS which is great for those who do not want to share server resources with other website owners.
I've made the switch the DreamHost VPS for the last few years now and never looked back. Although DreamHost VPS doesn't provide cPanel, it provides 1Click WordPress Installation option and easy to use control panel including easy email account management. DreamHost Virtual Private Servers Need a better web hosting but unsure where to start? For more reviews and comparisons visit web hosting related category here.