Whether you're starting a new business website or want to change the hosting for your live website, RankYa (Australian based web developer and Google specialist) has a new list of the best VPS Hosting Australia for all your online needs in 2022.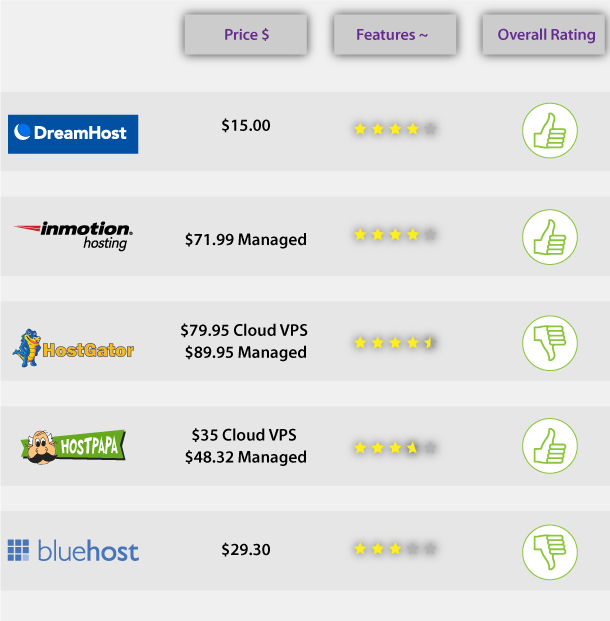 Before You Buy The Best Virtual Private Server Web Hosting
Almost 99.9% of businesses in Australia rely on Google to drive website traffic (organic, Google Maps or Google Ads), as a result, when considering a web server to host your business website. You have to think about few important facts before purchasing your VPS Web Hosting. Because at the end of the day, despite VPS hosting being better than shared hosting, depending on your business type, shared hosting may actually be cheaper and also better.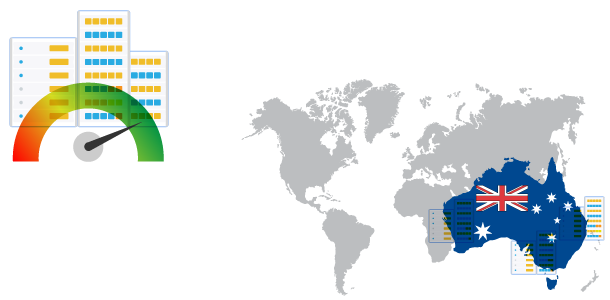 Local Business Owners in Australia
Consider speed / performance of your VPS and Data Centre Location over other features. Data Centre location a web host company provides should be as close to your local service location as possible.
Small Business Owners & E-Commerce Operators (Serving Australia Wide Only)
Consider speed / performance of your VPS and Data Centre Location should either be in Australia or uses fast cloud network.
E-Commerce Operators Selling World Wide
Ask "which country is my most important target audience resides in?". Then, choose a Virtual Private Server who either has a Data Centre in that country or uses Content Delivery Network to serve your web site files.
100% Australian VPS
Unfortunately, our politicians have not invested enough in supporting Australian businesses to thrive in this digital economy. As a result, we do not have the IT infrastructure like other countries. Truth is, some web hosting companies claim to be 100% Australian owned and operated, but remember, that doesn't mean the Web Server is physically located in Australia.
Luckily for us, its our American friends (also Allies) that drive the Internet and Technology that fuels it. And, since digital presence is based on 0s and 1s, the web server location doesn't really matter for most of us Aussies looking for a fair go online.
List of The BEST VPS Hosting for Australians
Today, I'm going to list popular web hosting companies with their VPS prices, and the most important features for you to consider. Just like Skippy the Kangaroo, we're going to skip Bandwidth, Unlimited Websites, FTP or email accounts because all VPS web hosting packages in 2022 have no limits on default features.
All prices are quoted in USD $ instead of AUD $. And to provide you with a better and more accurate price overview, I've selected their actual monthly prices for VPS web hosting packages as opposed to initial discount gimmicks most web hosting companies offer their first time customers.
DreamHost VPS Hosting Plans & Features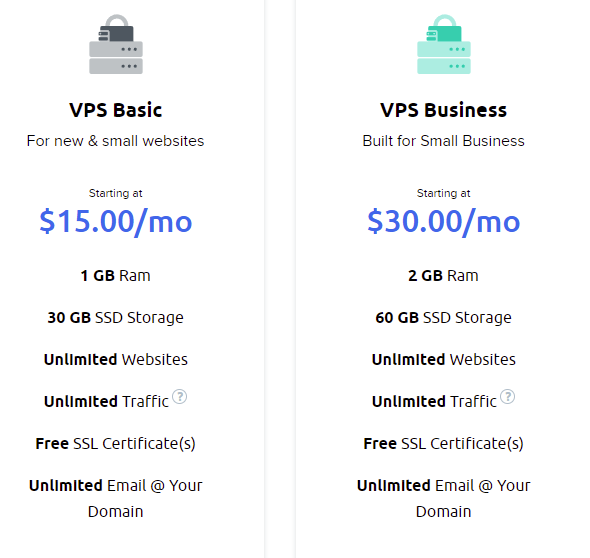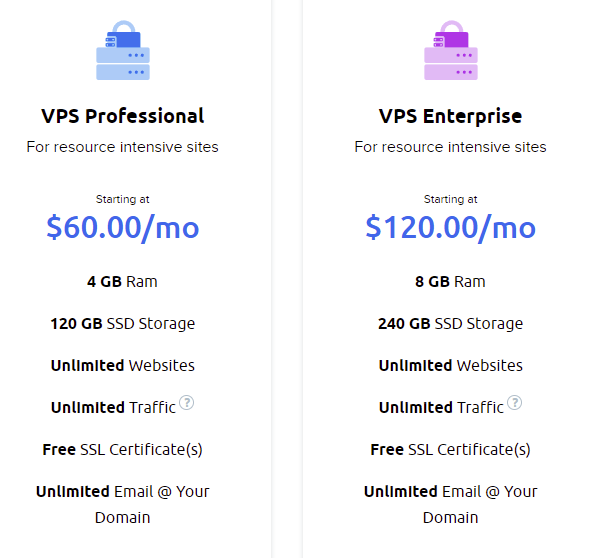 Where is DreamHost VPS Data Centre?
DreamHost will host your VPS at data centre based at Ashburn Virginia USA
DreamHost Does NOT Register com.au Australian Domain Extension
One downside using dreamhost for Australians is that you can NOT register com.au domains (but you can register every other extension at great prices). I tend to just register using Crazy Domains or GoDaddy and then with few clicks point the domain to DreamHost VPS.
Is DreamHost Virtual Private Servers Any Good to Use in 2022?
DreamHost isn't well known in Australia as others like Crazy Domains, however, when it comes to web hosting, you just can't ignore DreamHost. Prices, stable performance, whopping 30 Gig SSD, and easy to use Control Panel (not cPanel) including One Click WordPress installation as well as FREE SSL using Let's Encrypt. Recommended by WordPress.org, this company is employee-owned and they are PCMag's "Editors' Choice" Winner 5 Years In a Row.
Support is mainly provided via raising a support ticket, email and Live Chat, and DreamHost provides an option whereby customers can request a callback from technical support.
When looking for web hosting solutions, DreamHost offers everything you can imagine, better priced Domain names, Dedicated Server, VPS, DreamObjects (Cloud Storage), WordPress Hosting, Shared Hosting (starting from $2.5/mo?). But DreamHost's VPS is the best for what you are paying and what you are getting in return.
I've made the switch from Crazy Domains to GoDaddy, and later from GoDaddy Linux hosting to DreamHost VPS. As far as I'm concerned, they offer us Australians the best VPS hosting at most competitive rates. Perhaps you can test drive their basic VPS for 1 month to see for yourself. RankYa Highly Recommends DreamHost VPS
InMotion Hosting VPS Plans & Features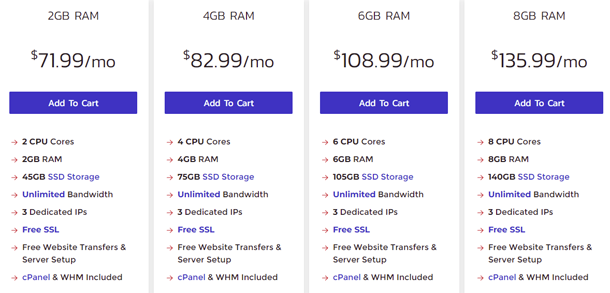 Where are inMotion Data Centres?
InMotion Hosting has 2 data centers located at Los Angeles California & Washington, D.C. United States
InMotion Virtual Private Servers – Best for Speed and Great Support
InMotion Hosting is no doubt one of the best web hosting platforms you can use whether you are Digital Agency, hosting reseller or a web developer managing your clients sites. Although bit pricey compared to other service providers, inmotion VPS includes the popular cPanel (cPanel Admin 5) with one click Apps making web site creation easy.
Their fast servers ideal for E-Commerce sites, and also for targeting Australian wide audience due to route optimisation through multiple network bandwidth choices ensuring the fastest connection according to user location.
Note: All VPS Hosting plans include new customer discounts but you need to chat with sales team to get it.
HostGator Virtual Private Server Plans & Features

Where are HostGator Data Centres?
HostGator Hosting has 2 data centers located at Provo, Utah & Houston, Texas United States (Note: You cannot choose which HostGator data center houses your server).
HostGator – Unrivalled Simplicity
Okay, let's not forget the old Alligator 'HostGator' easily one of the oldest web hosting companies around. They do offer great deals when it comes to freebies Free WordPress/cPanel website transfer, Free SSL certificate and also Free domain included in the 12 month shared hosting plans. Great customer service and easy to use account management.
When it comes to Virtual Private Servers, you get huge space and 2 IPs, but, even the VPS package named Snappy 2000 offered by HostGator is quite expensive $79.95 and similarly to Snappy Tom, the digital cats of Australia will not easily make the choice of HostGator VPS for that monthly price.
HostPapa VPS Hosting Plans & Features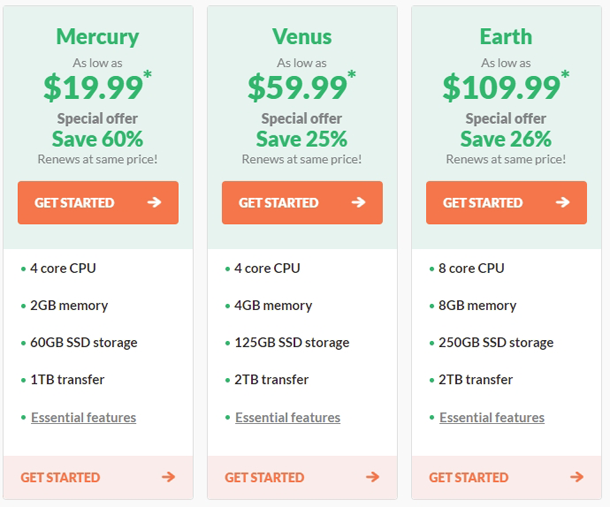 Where are HostPapa Data Centers?
Although HostPapa has 2 data centres Europe: Amsterdam and Canada: Toronto. Their Virtual Private Server can only be hosted at Toronto Canada.
HostPapa – Best Cheap VPS
Although Canadian company, HostPapa has an office now in Sydney Australia, also have .com.au website (which as you know requires an ABN to register. This also protects you within Australian consumer law which is great).
From the word get go, HostPapa VPS is like a pizza with the lot, compared to all others you get double the everything. Take a look at the image above, sounds cheap right? But only if you are happy with bare minimum because you need to pay way extra for cPanel and for monthly terms. Search Google with 'HostPapa VPS Hosting' Here's what fellow Aussie says about HostPapa
Terrible service, we have not had emails now for three days. Their idea of urgent is a lot different to mine, as a Business Owner dead in the water….Dealing with overseas operators that have limited ability and knowledge. If they where local I would be there with a baseball bat!
Here's what another Aussie says about HostPapa
I have 3 websites and 4 domain names with HostPapa and they have been fantastic. The service is very inexpensive and the customer support has been exceptionally good. Every time I have had an issue (which hasn't been very often), their technical support has fixed the issue almost immediately.
BlueHost Virtual Private Server Plans & Features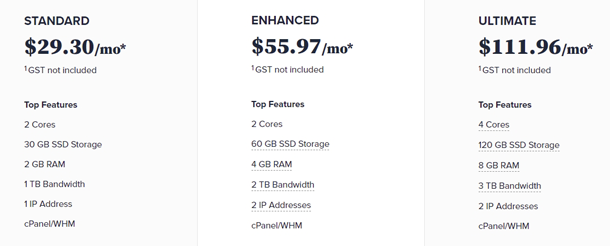 Where are BlueHost Data Centres?
BlueHost web hosting company has few different locations at Hong Kong, China. Mumbai, India Data Centre. London, UK/Europe Data Center and a data centre in Utah, USA
BlueHost – Best for Reliability
BlueHost is a reliable web hosting service with inexpensive shared hosting plan that comes with free domain, free SSL certification, 1-Click WordPress. And yet, customer support is on the poor scale, and things can get quite expensive with their VPS plans and Package Extras (Codeguard Basic, SiteLock Security, Bluehost SEO Tools). Compared to other VPS platforms available in 2022, BlueHost Virtual Servers is one of the more expensive VPS's making it least attractive for Australians. Search Google with 'BlueHost VPS Hosting' to find discounted VPS products.
Crazy Domains Custom Virtual Servers
Since these fella's are the largest domain name registrar in Australia, you too may have seen them on billboards around Melbourne or Sydney, since they have Data Centres located right here in Australia, let me include Crazy Domains Custom Servers as well. Although the monthly fee for basic VPS with cPanel has Crazy price $65 Australian dollars per month, it may be ideal to consider dependent on your requirements. Also, if you are a technical person who can SSH PuTTY then you can reduce the monthly fee to $35 without cPanel making their VPS an attractive alternative.
Runner Up Greatest VPS Hosting for Australia in 2022
DreamHost VPS – Best for Stable Performance and Affordability
InMotion VPS Hosting – Great Customer Support and Optimal Performance
HostGator – Unrivalled Simplicity
BlueHost – Best for Reliability
HostPapa – Best Cheap VPS
Crazy Domains – Best for Shared Hosting Ideal for Small Businesses (but worst for advanced customer support)
DreamHost VPS is Better in 2022
What is Virtual Private Server?
Web server technologies in 2022 compared to previous years can get complex to understand since there are plenty of choices for us Aussies. Best way to grasp what you are getting in VPS hosting is to think of:
A typical desktop computer with Solid State Disk drive, you start the computer and boot in to Windows 11. And uncle Bob visiting for the weekend says "Hey, I also want to buy a computer to access internet". And you say "well Bob, don't buy a new computer because I'm happy to create a new user account on my desktop computer so that you can use it anytime".
Virtual Private Server is just like that user account but on a web server. Basically, with VPS, you are renting a partition on a web server and paying for server resources such as CPU RAM SSD allocated for you only.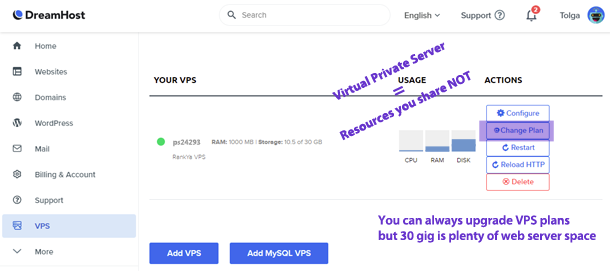 Do You Need a VPS?
Just because there is all the hype about Google Core Web Vitals and VPS hosting does not mean virtual web servers will be any better option for all types of business websites. At the end of the day, if you own a local business website, shared hosting may still be good enough option because you won't have 1000's of website visitors eating away on server resources everyday.
Why go with vps instead of shared hosting? Because your online business website's success will be built on secure and stable server. Some cheap shared web hosting service providers have had security issues and also some shared servers can go offline for long periods of time. That means, if you have a website built on shared server and you know its too slow, then a reliable VPS platform is a great choice.
Google has introduced Core Web Vitals (part of Page Experience update requiring websites' to load fast in 2022). Basically, choosing The Best Virtual Private Server instead of shared web hosting can also help websites to gain more website traffic.
Difference Between Shared Hosting VS WordPress Hosting
Shared hosting is just that, you get to share a web server with other website owners. Although that's the case, with shared hosting your web hosting company creates a web hosting account so that you manage your websites yourself (for example: install different type of Content Management Systems such as WordPress, create email accounts and or upload files etc.).
Where as WordPress hosting means that the web hosting company has already installed WordPress, and only provides you with WordPress frontend login instead of granting access to the installation files.
WordPress Optimization Tips
Whenever you choose web hosting, make sure you can access the WordPress installation files. This will ensure your WordPress site can be fully optimized for the latest Google changes including Rich Results with Structured Data.