The title here may sound bit odd How to Local Business SEO but in the world of online marketing, it is better to be prepared so that your website is fully taking advantage of all the new changes for your internet business.
Is Local SEO Different to Normal Optimization?
Yes because if your business is a local business targeting people located in certain locations (City, Neighborhood, Suburb) you'll need to create a website that caters for local customers.
Local Search Engine Optimization Insights
Surely, in terms of SEO, you just need to follow the core insights I've already shared with you. Then, because you now understand the importance of keywords and customer profiling. Your message and communication on your local business web site needs to communicate your understanding of your local customer.
For example: RankYa's valued clients are located throughout the world, that means, my web site copywriting has to take this in to account. Whereas if I just offers services locally in Melbourne Australia, then, I will need to talk to Melbournians. Another example, if my target audience is concerned about Prices? Then, I need to allay their fears and offer better service rates. If fast deliveries are more important, then I must allay their fears of waiting and waiting.
I know this is rather confusing for most website owners to grasp, but at the end of the day, having an optimized website is easy, what's important is increasing your website conversions. The only way you can do that is through your communication of your understanding of your local customer. The easiest way I can explain this to you is by suggesting "just think of your website visitor as your neighbor in your community" and communicate accordingly.
Google My Business for Local Marketing and SEO
If your website is not in Google My Business listing to show up in Google Maps, then by all means go and verify your website now to advantage of latest changes in Google. For example: now the right hand sidebar Ads are gone from Google search results page, so you would have noticed Local Business Listings show up on the right hand side of Google results page. That's where you want your local business to show up as well.
Login to your Google account and find Google My Business Location Settings
Or you can also visit Google Maps and then search for your own business details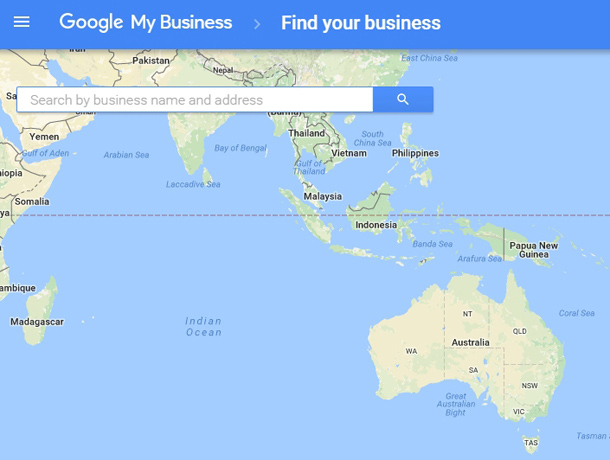 Once you press Add a Single Location you will be directed to Google Maps for searching for your Business to see if Google already has information about it (even if you didn't verify your business listing, Google may have information about it (in which case you can verify and claim your listing)). Simply follow the prompts and you're done.
Google My Business Account Versus Google Brand Page
Don't confuse your verified business listing with Google Brand Pages (formerly Google+) because you can have many brand pages. Think of Google Business Listing being part of Google Maps listing for your Local Business.
What If You Already Have a Google Brand Page
You can still take ownership of the business listing because its a different Google product.
Focus On Content Sharing on Google My Business
Most small business owners just create their Google Listing and simply forget about engaging with visitors or customers, or they often just #hashtag and share photos. If anything, you want to be regularly updating social media profiles such as Google Local Business Posts. Don't let it go stale with no content. Furthermore, find creative ways to get reviews for your Google Business Listing as that will influence Google Maps Rankings not to mention the benefits of reviews as Social Proof for your online business.
You can and should create special offers in Google My Business Listing as well as consider Google Ads PPC and use Location Extensions.
Video Lesson Explaining How Google My Business Works
Use Schema.org Markup for Local Businesses
Google officially supports the different types of structured data markup where you can better establish your business details with Google. Furthermore, adding Structured Data will help Google build knowledge graph when you add Local Business markup.
Including opening hours and customer support phone numbers. You can use many different Structured Data techniques as they are useful for Google knowledge graph as well as higher ranking (both in Local Listing results, Google Maps search, Google Web Search and Google Ads) for your Local Business. This will also help Google algorithms to better understanding your business when it finds information on external sites as well.
Whenever you are linking your external social media profiles, use itemprop="sameAs"
Search Engine Optimization for Local Business Websites
In terms of SEO, you need to focus on structure of your website, particularly if you are offering services in certain neighborhoods.
www.example.com/targetlocationMAINarea/individualsuburb/
Target Location MAIN area would be optimized for that main area you are serving and also must have links pointing towards individualsuburb URLs.
It is 'Individual Suburb' web page you must focus on ranking in Google because its easier and because you'll get higher conversions.
Also, whenever you create sharable content, include your Business Name, Address, Phone number (or anything unique about your business). Also, do realize that any PDF documents you may create can include details about your Local Business as well as links within PDF documents.