Go to Google and search your industry specific keywords. Click on the organic listing link and visit the competing website. Analyze competitor. Done.
You can do that because of internet. Before Internet, you either had to visit their physical store or send someone pretending to be a customer to learn about your competitors.
There is no business on our planet that does not have competitors. In fact, without having competition there can be no business. Regardless of your philosophical beliefs, understand the fact that we are living in Capitalism. And the best part of operating an online business is, almost everything is visible when it comes to our competitors.
Obvious starting point when analyzing a competitor is, their website and social media profiles. Surely, you've already done that. But did you message them as a customer? Did you ring them as a customer? Consider these options to identify their business and service process or even their prices.
This You Must
The single most important knowledge I can share with you regarding competitor analysis is 2 things.
Thoroughly analyze words. Speech patterns (on their website and their social media profiles). As in, what and how your competitors are communicating
Find and read through reviews they got. Identify what makes your future customers happy and also unhappy by reading through online reviews
I can write a book about the importance of the above points, simply imagine a particular customer has left a good review, then, you'll need to communicate your products and services to match their expectations.
Since you'll also come across negative reviews, then, you'll need to allay your customers fears and make sure your business website not only understand the customer but also assures them. That is the most important aspect of competitor online footprint analysis.
You can find many online communities, forums, books or courses etc. where people leave reviews and feedback or just chit chat. This means the information you seek is out there.
Use Google Search Engine for Competitor Analysis
You can also find useful information about your competitor's website by using advanced search operators. Regardless of the niche you are competing in, use these types of search queries.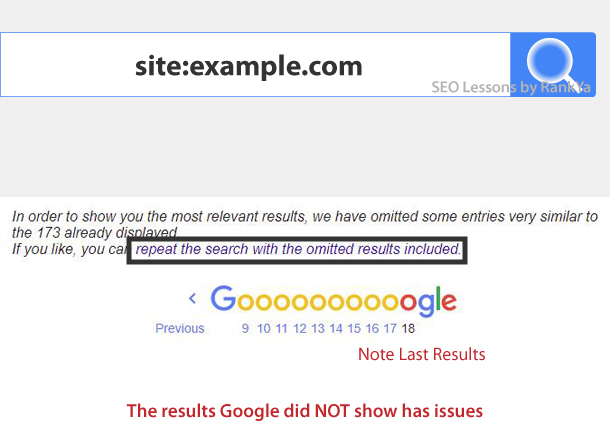 Once you conduct a search using the site: operator, note About Results Number in first search results page, and scroll down the page and use paginated links to browse to the last page in Google.
Then, when on the last page in Google search results for a website you are analyzing, repeat the search revealing omitted results. Compare both numbers (initial without omitted results compared to omitted results). This reveals, if the competing website has thin content, near duplicate or duplicate content issues.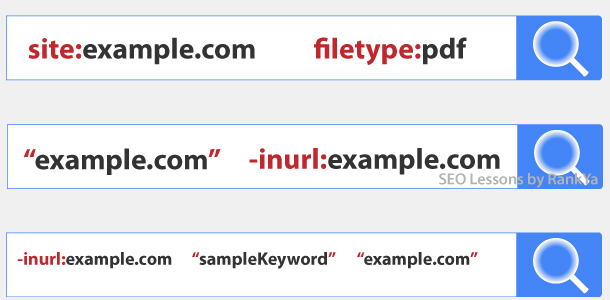 Next, Use Google Advanced Search Site Operator Filetype
site:yourcompetitordomain.com filetype:pdf
"yourcompetitordomain.com" filetype:pdf
Depending on your niche, use different file types to your advantage both for content marketing as well as higher Google ranking. Knowing that if Google can index a web document, it can analyze it as well as compute links within those web documents. That means you can use different file types for increasing backlink count.
Next, See Which Other Sites Mention Your Competitor Domain
"yourcompetitordomain.com" -inurl:yourcompetitordomain.com
"YourCompetitorName" "Facebook"
"YourCompetitorName" -inurl:yourcompetitordomain.com
This type of online research can reveal
If your competitor is running PPC Ads
If your competitor is focusing on branding online
If your competitor is getting backlinks from places which the backlink analyzer tools didn't show
What type of content is being created, promoted and shared by your competitors
What is their message, promotion offers, discounted offers
These are my favorite advanced search queries because they may reveal additional insights you can use to your own business website marketing advantage.
Perform Competitor Backlink Analysis
Analyzing the backlinking structure of a competing website will reveal their content marketing strategy as well as their most important keywords. But critically, it reveals why Google is ranking their website for a particular keyword.
You can use backlink checkers such as Majestic SEO (Majestic SEO is a paid program) to see which external sites your competitors are getting backlinks from. And which keywords they used on those backlinks they've got from external sites. 
The only reason Google ranks a website in top position is due to 3 factors.
Content
Website Usability and Optimization
Backlinks
Important Questions to Ask When Looking at Competitor Backlink Profiles
Which website/s does my competitor share their content
Can I also create similar content and share it on those websites
Backlink Formula – RankYa Fan Special
There are countless opportunities for content marketing and backlinks. What's very critical is getting natural quality backlinks obtained over time with diverse anchor text.