The truth is, Google search engine Terms of Service and policies are complex for most people (or parents) wanting to get rid of personal names showing up in Google search results.
I've decided to create this latest, hopefully bit more simplier how-to guide to remove persons' name from Google (or Google Products such as Google Business Profile or Blogger etc.).
Must Knows: never submit a removal request before understanding Google policies and guidelines. Or else you'll get an email like so:
Hello, Thanks for reaching out to us. We understand you are concerned about the content in question, but Google cannot remove content from third-party web pages. Google simply aggregates and organizes information published on the web; we don't control the content found in the pages of our search results.
Understand Where Google Found Someone's Name
Ways Google can identify personal information of an individual person are as follows:
Information Google crawlers finds on third-party websites. These are websites that are NOT owned or controlled by Google.
When a person uses their personal name while using any Google Product or Services
How to Remove Your Name from Google – Must Knows
How to Remove Person's Name from Google When It is on Third-Party Website
You must contact the website owner and ask them to remove any personal information they have published on their website.
How to Find Webmaster or Website Owner
You probably already tried to contact the website owner through the contact page or sent an email. But what if there is no contact page or email address to communicate with the site owner? Then, you can try using webmaster@example.com because most web hosting service providers use the word 'Webmaster' as default email.
If you get no response at all from the website owner, then, next step is to contact the web hosting company because the responsibility now falls on them to respond to your requests. Because it is their server the information being individual person's name.
How to Find Who Owns the Domain Name
Domain names can be registered through many means including a company. Also, whois research will often reveal hosting server details.
How to Remove Your Child's Name from Google
If you are a parent wanting to remove your child's name or image from Google. Then, realize that Google has different policies for minors under the age of 18. Visit remove images of minors from Google search results (this process can be used to remove childrens name as well).
Removing Persons Name If Name Provided Through Google Account (Products or Services)
There are countless different ways Google may find someone's name when the person uses Google products. Basic example: when someone creates a Google Account or creates a YouTube channel. In such cases, below is a video tutorial showing what you can do to remove your name from Google.
Sending Removal Request to Google for Legal Reasons
Visit Google's Legal Help section for removing content from Google.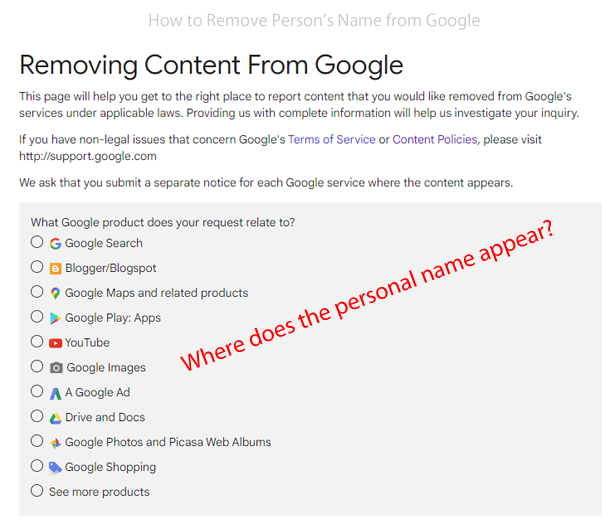 Follow the prompts Create a Request to Report a legal removal issue.