Registered a domain with Crazy Domains but not happy with their web hosting and now you want to move your domain away from Crazy Domains to DreamHost server? No worries at all because it's very easy to do so.
NOTE: this is just for pointing a domain name that has no web hosting and you still want to let Crazy Domains be the registrar of your domain name (if your Crazy Domain site already has a website hosted, then, follow the steps detailed later on this blog posts). Also, you do NOT need to transfer your domain name to DreamHost to use its servers.
Video Lesson: How to Point a Domain from Crazy Domain to DreamHost Server
Basically you need 2 pieces of information.
IP Address of the DreamHost server you want your domain to point towards
DreamHost Name Server
DreamHost provides the IP address upon purchasing VPS (or dedicated server). You can always chat or email them to get your new IP address if you still haven't got it. Or if you already got your VPS, but unsure about your IP, then, you can actually send a ping request to your DreamHost server using windows command prompt like so: ping psCHANGE.dreamhostps.com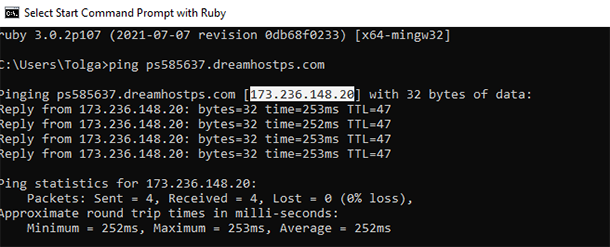 The image above shows an example for pinging to RankYa's DreamHost Virtual Private Server to find my IP. You can do the same using Windows Command Prompt, simply search "CMD" in Windows 10 or 11 search bar.
How to Find Your DreamHost VPS ID
Once you're logged in to your DreamHost Web Hosting Account, locate VPS menu
https://panel.dreamhost.com/index.cgi?tree=vps.dashboard
Here are DreamHost Name Servers
ns1.dreamhost.com
ns2.dreamhost.com
ns3.dreamhost.com
Step 1
All you now have to do is change / update Crazy Domains Name Server and create A Record using your DreamHost IP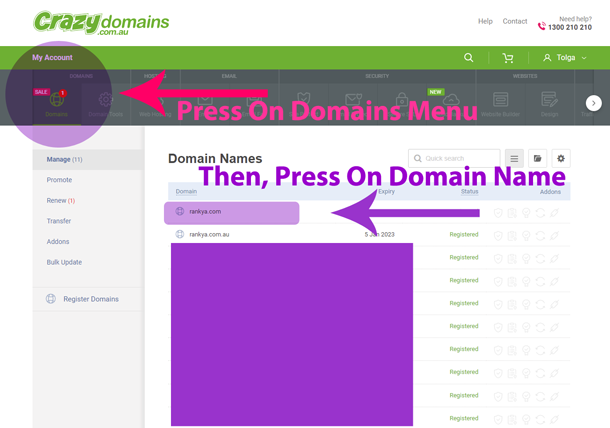 Step 2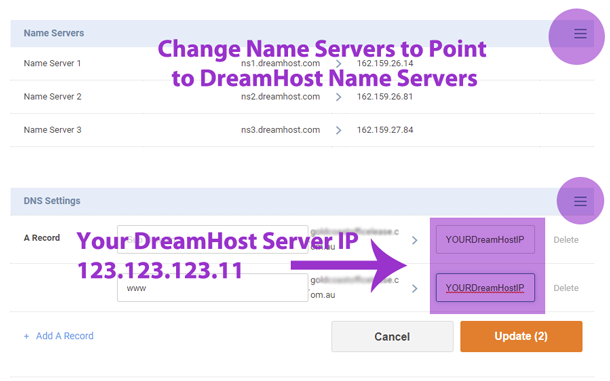 The above steps are for pointing a domain registered with Crazy Domain to DreamHost while still letting Crazy Domains be the registrar of your domain name (its not for transferring it because you do not need to transfer the domain registrar unless you want to). You can learn more about transferring the domain name registrar by searching DreamHost help section with 'how do I transfer my domain registration to DreamHost' these terms.
RankYa Tip: to speed up the process of Domain Name System (DNS) propagation on internet. Simply visit your domain name using Google Chrome browser on your smartphone).
If you have a live website using Crazy Domains web hosting, and you want to move your entire website and its files to DreamHost, then, use the steps on the following link (even though the steps are for GoDaddy hosted website, the process is the same for Crazy Domains as well for moving an entire website and its files). Search DreamHost help section with 'How to Migrate a GoDaddy Hosted Website to DreamHost' RankYa Recommends DreamHost VPS