The new webmaster tools, also known as Google Search Console has new features such as Index Coverage report. Basically, any report under this is to do with how Google crawls webpages and how Google indexes webpages. That means, this report is important and any errors within should be identified and must fixed.
I manage many different Google Search Console properties, and if you also started receiving email message that look like this: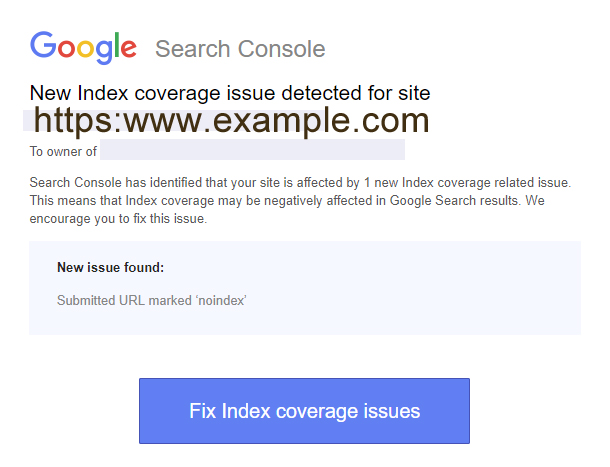 This report is much easier to understand if you have read how Google Search works first.
How to Fix Submitted URL has Crawl Issue
This is usually to do with robots.txt 301 redirection or it could be to do with your website setup or even web server setup. Here's a video showing you how to remedy this
Submitted URL marked 'noindex'
Let's first understand 2 things, if you are aware of certain pages that you've placed noindex meta tag <meta name="Googlebot" content="noindex"> <meta name="robots" content="noindex">
or are using header response directives like this one Header set X-Robots-Tag "noindex, nofollow" And then, have XML sitemaps submitted to Google Search Console that has those URL's with noindex directives, then, Search Console Index Coverage errors Submitted URL marked noindex is triggered.
All you have to do for fixing this, either remove the noindex directive from your webpage OR remove the URL from the XML sitemap
Here's a Video Showing You How to Using WordPress and Yoast
New Search Console Index Coverage Status report help section suggests
Use this report to learn which of your pages have been indexed, and how to fix pages that could not be indexed
What if you wanted to have certain URL's to be NOT in Google index, and have intentionally used noindex directives. When that is the case, you can leave noindex directive on your site, and then just remove the URL from your XML sitemap.
Lessons for Advanced Users Fixing Index Coverage Issues & Warnings
How Do You Fix Other Index Coverage Issues?
There could be many reasons for Google having problems indexing websites, it could be robots.txt directives, noindex meta tags, or Server 5xx problems. Fixing some errors may require you to contact your web developer or web hosting company.
Google Search Console Index Coverage Report will definitely be useful because many web site owners learning how to optimize their WordPress site can better understand what Google wants.