Google Search Console Page Indexing reports is all about how Google sees certain URLs it comes across during crawling a particular website as well as the internet.
In most cases, Page with redirect issues do not need to be fixed or validated as it is normal part of operating a website to have redirection of a given URL.
Continue reading to learn if you need to fix page with redirect errors, or, you can ignore them completely. UPDATE: this blog post now includes a new updated video lesson.
Table of Contents
Basics for Troubleshooting Page with Redirection Errors?
Examine the image below to get an overall understanding as to what is Google search console reports complaining about.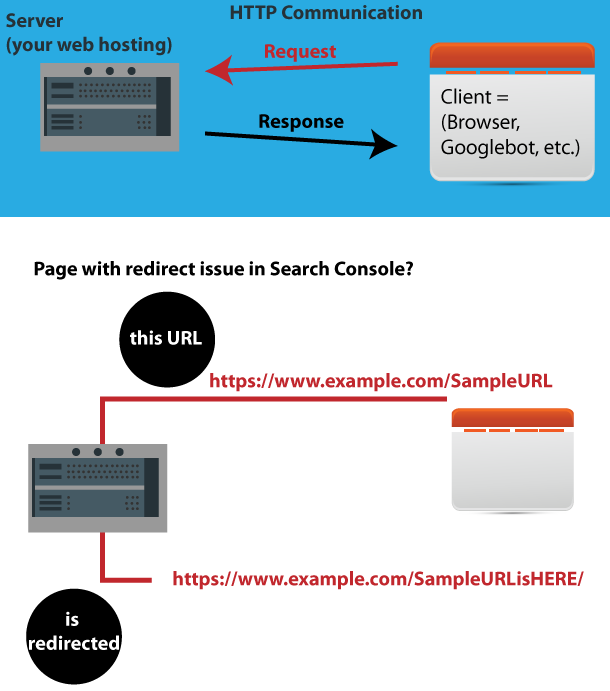 When You DO NOT Need to Fix "Page with redirect" Status?
Best way for us to understand when you can ignore "Page with redirect" status is looking at RankYa's own Google Search Console Page with redirect reports through 2 images below.
Page with redirect for ALL KNOWN PAGES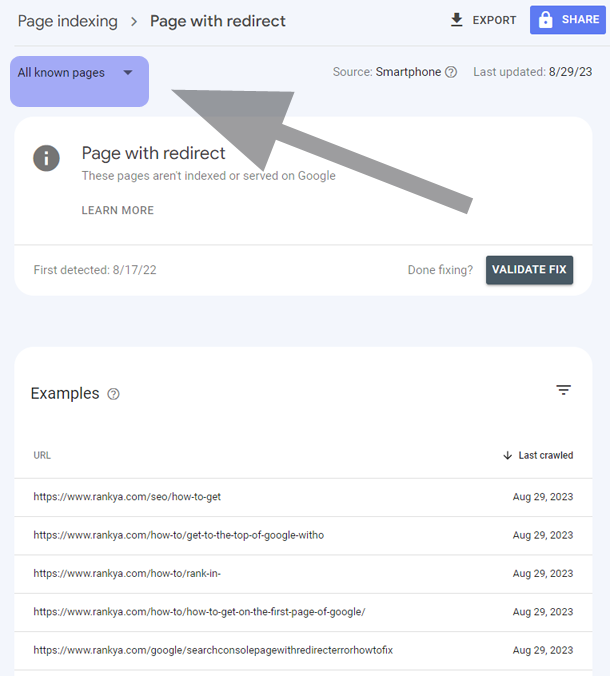 Page with redirect for All submitted pages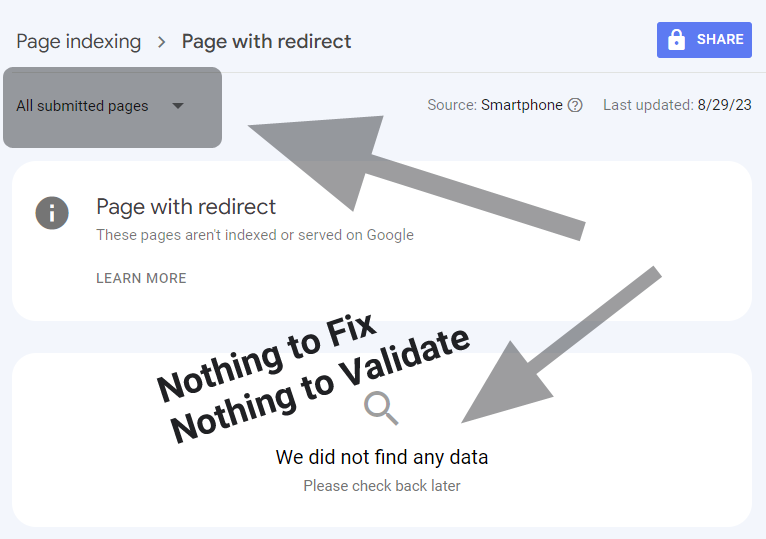 If your Google Search Console reports show you the same thing for all submitted pages, then, you can simply focus your attention elsewhere because there is nothing to fix or validate.
When You DO Need to Fix "Page with redirect" Status?
If you have submitted XML Sitemap in Google Search Console AND Page indexing > Page with redirect for submitted pages are shown, then, these must be fixed and you can not ignore them because Google is having major issues.
How to Fix Search Console Page with redirect Errors
Use the tools made available by Google Search Console as shown in the image below.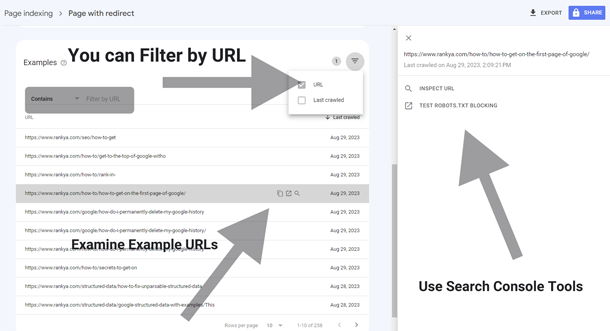 Particularly Inspect the URL as it will show you more details for troubleshooting.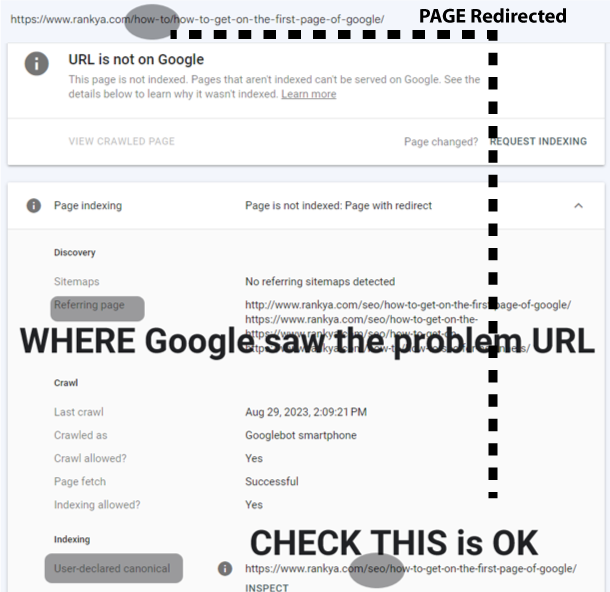 URL is not on Google
Double check the above image because if Search Console URL Inspection shows you the same message "Page is not indexed: Page with redirect" but Google has discovered User-declared canonical, then all is good, there is nothing more to fix. Basically, when Googlebot tries to visit the redirected URL, your web server REDIRECTS Googlebot to different URL, in most cases this is called canonical URL.
Video Lesson How to Fix Page with Redirect Issues
What is Redirection?
Web servers and browsers communicate through Request / Response signals. Redirection messages (300 – 399) can for example be 301 Moved Permanently. This means, search engine like Google requests a URL but your web server responds with HTTP Status 301 Moved Permanently, stating that URL of the requested resource has been changed permanently, and the new URL is given in the server response.
Why Google is NOT Indexing Page with Redirect?
Google search engine can not index URLs with redirection. For example: when Googlebot requests this URL from a website
https://example.com/sampleURL
But your web hosting server tells Google "hey that URL is NOT there, here is the NEW LOCATION"
https://example.com/sampleURL/ (NOTICE THE FORWARD SLASH)
If it can not access the URL because the server has redirected Google to a different URL (yes, just a forward slash is treated as different URL for Google) means that Googlebot is NOT able to place the redirected URL in its index (because the problematic URL can not be accessed due to redirection rules (usually 301, or 307 redirection server response messages).
Only Fix All Submitted Pages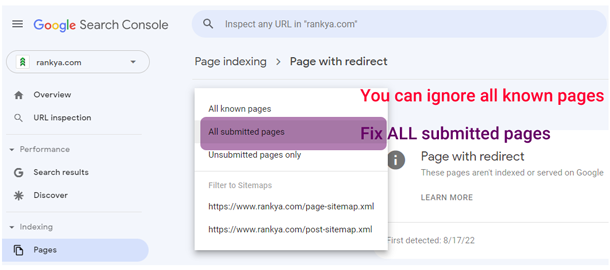 Places to Check for Problem URLs
Depending on the content management system, page with redirection issues can occur due to many reasons, mainly:
Links within the website (Menu links, internal links)
Incorrect Domain Setup for www and non-www version of URLs
Or Incorrect SSL Setup (as in http version of a website can still be visible to Googlebot)
Mix Content Issues (as in, http version of URLs are still lingering on the actual website or the internet)
trailing slash in URL, as in forward / slash
subdirectory is setup incorrectly (example.com/sampledirectory/sampleURL can also be viewed through example.com/sampledirectory/sampleURL/
Incorrect Links found on EXTERNAL website/s (which you can't do much about apart from ensuring 301 Redirection is setup on your own web server)
Video Tips for Fixing Page with redirect Issues for WordPress
Sample .htaccess Rules for Fixing Common SSL Related Errors Which May Cause Page Redirection Problems
<IfModule mod_headers.c> Header always set Strict-Transport-Security "max-age=31536000; includeSubDomains; preload" env=HTTPS Header add Referrer-Policy "strict-origin-when-cross-origin" Header add Content-Security-Policy "upgrade-insecure-requests; block-all-mixed-content;" </IfModule>
More Ways to Fix Page with redirect Issues in Google Search Console
Because there are countless different ways a website can be setup, for almost 99% of websites, Page Indexing > Page with redirect issues do not affect Google rankings as long as these are in place:
Ensure XML Sitemaps has the correct URLs you want Google to index.
Make sure any Redirection messages are setup correctly (including both versions of domain such as www. non-www)
Ensure the website does NOT have broken links
Ensure all internal links use the correct URL structure
Why Would Page with redirect Issues Keep Appearing in Search Console Report upon Validating Fix?
If all of the above website maintenance settings are in place, and upon Validating Fix for Page with redirect errors, Search Console still shows URLs with Page with redirect issues. That can only mean 3 things.
somehow your website is setup incorrectly (https, www vs non-www, trailing slash in the URL patterns), Google continues seeing those URLs on your website redirecting Google to new URLs. Therefore still complaining even though you've checked everything and fixed these types of problems.
your website has broken links that Google may see and thus show in Indexing > Page with Redirect reports.
your XML sitemaps are submitted incorrectly (meaning, you would hardly submit just 1 parent XML sitemap which contains all section of a website).
Page with Redirect Validation Failed?
Upon validating the errors as fixed, Google Search Console continues to show Page with redirect Issues means "Google is still seeing the problem on the website".
As long as you follow Google guidelines and follow best practices as outlined. You need not lose sleep over Page with redirect Issues for ALL KNOWN PAGES shown in Search Console, because you can mostly ignore errors for ALL SUBMITTED PAGES.
Meaning, the most important factor for troubleshooting future issues in Search Console is by making sure the XML Sitemap is setup correctly including ONLY THE URLs with correct pattern.