This email address does not belong to the same domain as the site. error message shown in WordPress Contact Form 7 is not an error
Here's What This Message Means
It means that the email address you are using for contact form 7 to receive your emails is different to your domain name. This is perfectly okay because as long as you are getting your emails, there is no error.
For example: if I am using Contact Form 7 on rankya.com domain, and then provide email address to receive my emails using another email client such as hello@gmail.com AND I am still getting my emails, where is the error then? Basically, you can ignore this warning as long as your form is sending messages.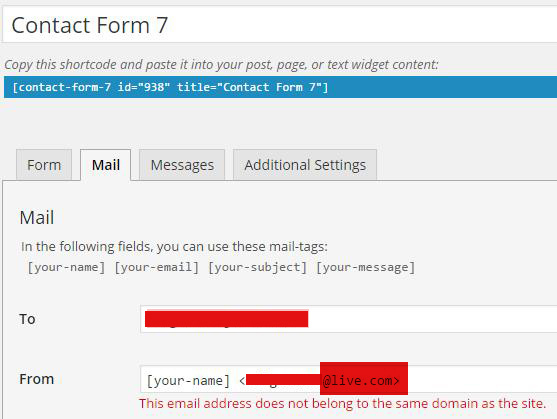 Where is the file that Generates this Error Message?
The file is within WordPress plugin folder
contact-form-7/includes/config-validator.php
It uses a function and PHP switch condition
public function get_error_message( $section ) { $code = $this->get_error( $section ); switch ( $code ) { case self::error_maybe_empty: return __( "This field can be empty depending on user input.", 'contact-form-7' ); case self::error_invalid_syntax: return __( "This field has syntax errors.", 'contact-form-7' ); case self::error_email_not_in_site_domain: return __( "This email address does not belong to the same domain as the site.", 'contact-form-7' ); case self::error_html_in_message: return __( "HTML tags are not allowed in a message.", 'contact-form-7' ); default: return ''; } }
How to Fix 'This email address does not belong to the same domain as the site' Error Message
Login to your WordPress Dashboard > Plugins > Editor > Select plugin to edit: Contact Form 7 > contact-form-7/includes/config-validator.php
Just comment out using 2 forward slashes as highlighted below public function get_error_message( $section ) { $code = $this->get_error( $section ); switch ( $code ) { case self::error_maybe_empty: return __( "This field can be empty depending on user input.", 'contact-form-7' ); case self::error_invalid_syntax: return __( "This field has syntax errors.", 'contact-form-7' ); //case self::error_email_not_in_site_domain: //return __( "This email address does not belong to the same domain as the site.", 'contact-form-7' ); case self::error_html_in_message: return __( "HTML tags are not allowed in a message.", 'contact-form-7' ); default: return ''; } }