Social media marketing requires bit of practice to get it perfected for your particular niche and market. The reason for this is because no two businesses are the same, your voice on social media platforms needs to be unique. That means, if anything, create your own unique digital assets and creatives which will stand out from the rest.
Proven insight I can share is: learn to NOT market on Facebook per se, but rather, understand what people (your ideal customers) do on Facebook and share content according to their specific interests.
Because most small business owners treat Facebook business page as an opportunity to advertise their products and service only, without considering the mode visitors are in when they are on Facebook. Basically, people do not browse their social profiles to be sold to.
What that means is that unlike Google Ads, which you can show your ads to people who are actively searching for it, Facebook shows your Ads to its user base when they are in different mind set. Social media participation mode, as opposed to searching or buying mode. That is why:
First tip for marketing your Facebook Business Page "Don't advertise your products or services", in fact, don't even begin your FB advertising campaigns first before "creating content that will be enticing".
When you are starting out on Facebook promoting your business products and services, then, it is more than likely that you may have already read information about Social Media Marketing. And yet, here's condensed version of what I learnt and tips you too can use.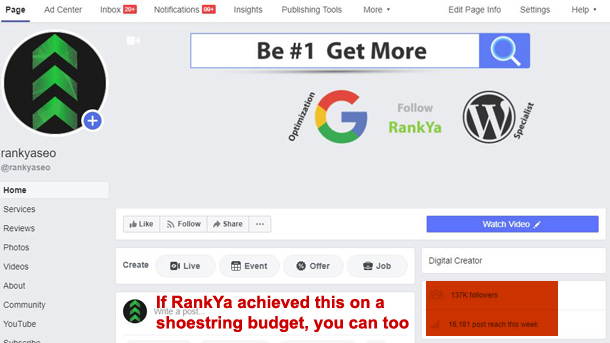 Facebook Business Page Marketing Tips for Small Business
Golden rule: stop listening to others about how you should do your business social media marketing because only you know who your target audience is, and only you know your own product's value. Critically, only you are aware of your own voice, your message. You market that on Facebook.
Define your objective clearly (begin with Page Likes to build momentum first). Then, you can branch out to other objectives (website visits, lead generations etc.) because when your Facebook Business Page has the fan base, your objectives are easier to accomplish due to social proof
Create custom audience by installing Facebook Pixel as early as possible.
Even if your business wants to reach a global audience, create FB Ads for specific countries
Identify & create content that will be of interest (Images, Tips and Tricks, Videos, PDF infographic, inspiration, stories, cute images, or anything else depending on your target audience's interests). This is will help you to get easier Facebook Likes and also create engagement with your brand.
Advertise creatives knowing people using Facebook don't want to be sold, but they will do the buying from you when you spark interest for them to visit your business website. Meaning, you can and should try to get people off of Facebook to visit your website where selling can occur much easier.
Set aside small amount of $$$ to advertise using interest based targeting
Use different creatives and speak directly with your audience
Fine tune your advertising creative according to initial advertising result (improve till its perfect so that it works on autopilot)
Ask your visitors to share the content they have liked with their friends (or give incentives to do so)
Be unique, authentic, just be yourself and let your ads and the content you are promoting do the talking
At the end of the day, Facebook is part of our lives, and Facebook advertising is an important channel which allows you to reach a exactly the audience you need to grow your business.