Latest Page indexing reports in Google Search Console has grouped various errors so that it is easier for website owners to fix issues. Page with redirect basically means that Google is seeing a URL but when it tried to fetch and index it, Google is being redirected to a different URL causing page with redirect issues.
Note: perhaps bit more simplier insights can be found in the updated version (particularly WordPress site owners may find helpful).
What is URL Redirection?
Resources on internet is found through Uniform Resource Locator (URL). When requesting a URL, a web server may send HTTP response status codes redirection message (most common being 301 Moved Permanently).
Video Lesson for Fixing Page with Redirect Errors
Places to Check for Redirected Web Pages (Advanced Version)
Redirection Plugin
cPanel > Redirect
PHP Redirection rules coded in website Theme
.htaccess file (Apache Server)
Check to see if any SEO Plugins changed the Canonical URL settings
You can also use Google Chrome Web Developer Toolbar (Press F12 on your keyboard) and look at Network Tab > Response Headers (See Figure below). Anything apart from Status Code 200 is an issue that must be investigated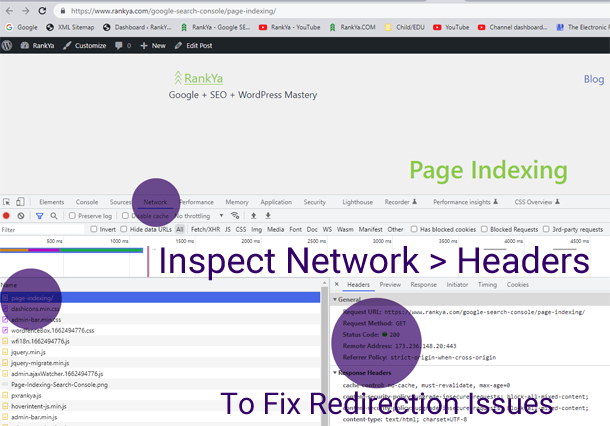 How to Fix Page with Redirect Errors in Page indexing Reports
All submitted pages (not All known pages) in Search Console having any Redirect errors must be fixed.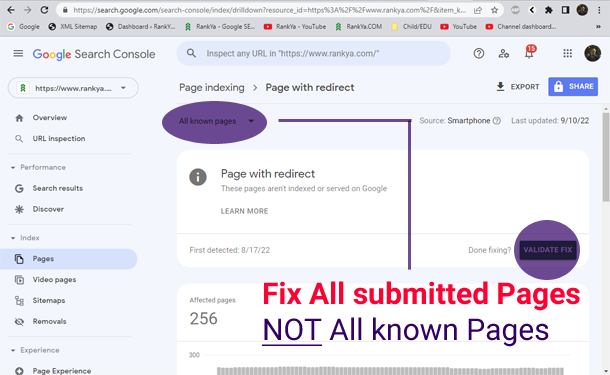 Before you Validate Fix, all you need to do is identify how Google's user-agent (Googlebot) is coming across redirection response code (most common is 301 Moved Permanently) and then simply remove the redirection from webpages so that Google search engine can fetch those URLs Search Console Page indexing report is showing as problematic page with redirect.