Google Analytics 4 (also known as "GA4") is the next generation of Analytics property. This GA4 version allows you to automatically track many different user interactions with different reports compared to Universal Analytics properties. One advantage of a Google Analytics 4 property is that you can use it for a website, an app, or both a website and mobile app together. Whereas Universal Analytics properties only supported tracking websites.
Video Lesson for Setting Up Google Analytics 4 for WordPress
Does Your Website Support Google Analytics 4 Property?
Currently there are only small number of website Content Management Systems that can use Google Analytics 4
Websites That Support GA4 = Google Sites. WiX. WooCommerce. WordPress
Websites That DO NOT Support GA4 = Shopify Squarespace Weebly Blogger Magento PrestaShop Salesforce (Demandware)
What If Your Website Does NOT Support Google Analytics 4?
No problems at all because you can still use Universal Analytics.
What Are The Terms of Using Google Analytics When Tracking Users?
Today in 2022, Google is very strict about how its products are used. Particularly for Google Analytics since a website may record sensitive user data as well as connect Analytics with Google Ads. Although most website owners skip the Terms and Conditions of use, make sure you are well familiar with what Data Processing Terms are when tracking your website visitors.
Setup Google Analytics Using GA4 Setup Assistant
GA4 Setup Assistant is a wizard that you access from the Admin page of your Universal Analytics property.
Setup Assistant in your Google Analytics 4 property links to tools that help you finish setting up your Google Analytics 4 property.
How to Setup Google Analytics 4 to Website
Simply login to Google Analytics using your main Google Account. Find Admin Options and Press on + Create Account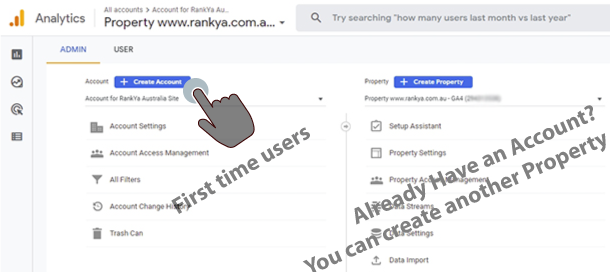 Account Setup Process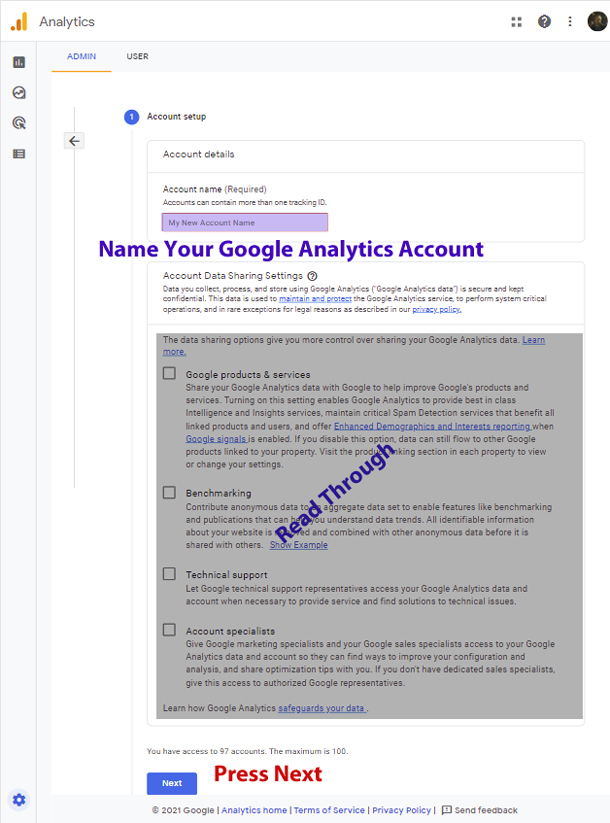 Its important to read through the options in Account Setup Process. Then Press Next
GA4 Property Setup Process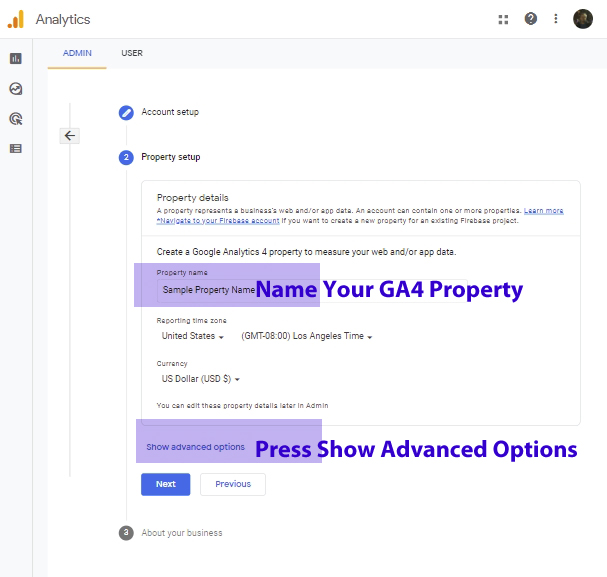 Its smart to ensure your GA4 Property automatically measures interactions and content on your website in addition to standard page view measurement (that's the main purpose of using [GA4] as tracking user interactions and event tracking is automated). Learn more about [GA4] Enhanced measurement events here.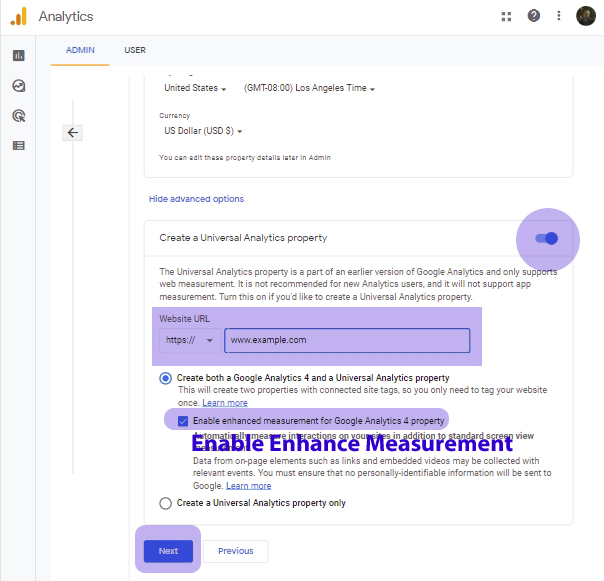 Then, simply select your business industry from drop down menu and then select how you will be using Google Analytics.
Next step locate your Global site tag for Google Analytics 4 Tracking Code which you'll need to add to WordPress.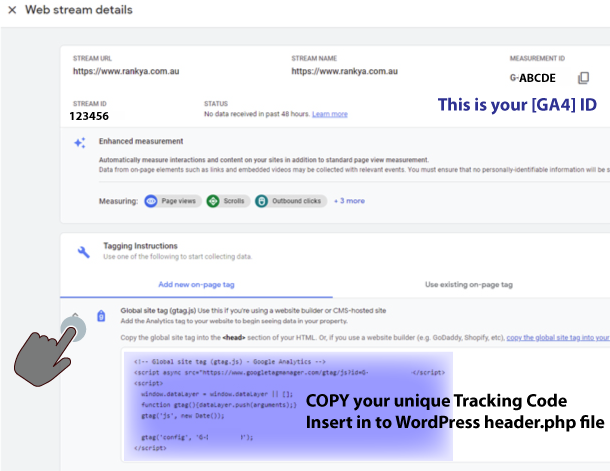 How to Add Google Analytics 4 Tracking Code to WordPress
Installing the tracking code is straightforward process. Google recommends adding the code for your GA4 property in the HTML head section. However, if you are managing a small business website and you will only use Google Analytics occasionally, then, its perfectly okay to add it to footer section (before closing of body tag).
Location of file to add the tracking for Self Installed WordPress
Login to Web Hosting > File Manager > public_html > wp-content > themes > YourCurrent WordPress Theme > header.php (Google recommended)
Login to Web Hosting > File Manager > public_html > wp-content > themes > YourCurrent WordPress Theme > footer.php (RankYa recommended for better web page load time)

Finally, when you've installed your GA4 Tracking code, it should look similar to this on your web page (you can see it by pressing on CTL+U keys on your keyboard).