The most important thing to remember about Search Engine Optimization also known as SEO is stop listening to so called expert or gurus promoting backlink spamming. That's the beginning of learning about SEO. Also, if you read anything whatsoever about On Page or Off Page SEO, then, perhaps its important to unlearn what you've learnt thus far. Because SEO is just:
Website Optimization
Content Creation & Marketing
Website Optimization
Website optimization entails 2 main aspects as well. The things you can do, and the things you can't do. The things you can do for improving SEO is intelligent keyword selection and targeting. Optimizing your content using those very keywords. And that is as simple as: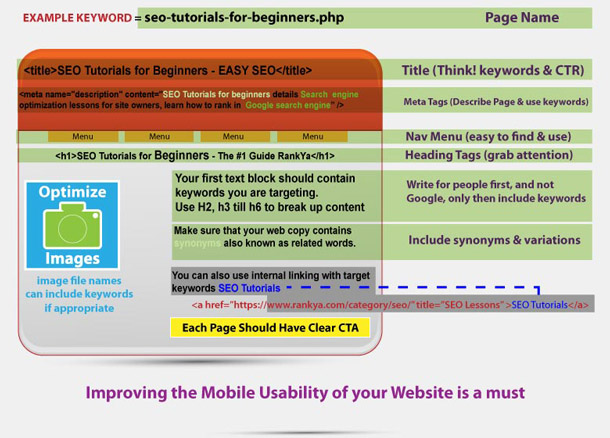 And that's it, really, that is all I can share for SEO tutorials for absolute beginners. Simply go ahead and update your website accordingly to the techniques as you see in the above image.
What's very important to realize is that everything you see in the above image works together. That means, if your web page title element is optimized but images aren't, then, you need to optimize your images etc.
All this should take you around a week to update your entire website if you are optimizing a small sized website. If you are developing a new site, then same principles apply. One way or another, without search engine optimizing a website according to the keywords you selected, there really is no point moving on to advanced SEO techniques such as improving page load times or adding Structured Data etc.
New beginners can and should check out the revamped SEO Starter Guide made available by Google search engine help section. By just following Google guidelines you can easily improve your website's position in search.
Core Search Engine Optimization Lessons
One of the most important SEO knowledge I can share with you is for you to think of Google as primitive. All it does, traverses the internet following links, when it finds a web page it just stores the content in its database. Its simply an algorithm, bunch of code that computes relevancy of documents to keywords searched by people.
On internet, there exists URLs, this is your domain and also webpages, web documents image files, PDFs, videos are all accessed by URLs.
What Google does is, requests the URL, puts the information (content) it finds on that URL in its database and then when someone searches Google, it conducts functions/analysis using many different signals to say
If searcher typed in this or that keyword which URL is the best match?
To understand Google rankings in an easy to understand manner, you have to think of Google as a child who can not yet speak, and each key-word you use on your website teaches it as to what your website talks about.
As I've said, Google isn't as smart as others make you believe because it is rather very limited in terms of what it can actually analyze. Despite having many signals and ranking factors, Google's limitation is within the very technology its built upon Internet and Computer Programming.
Internet (inter connected networks of computers) also called the World Wide Web (WWW) is built on URL's and HTML. Whether web pages are built using HTM PHP ASP or anything else, its just content within <!DOCTYPE html>. Basically, your website and webpages are a type of HTML document within WWW. That's why websites usually start with www.example.com
HTML and SEO
And because HTML has standards, all you really have to do is follow the best practices. For example
<head> is where you can begin training Google, starting with the HTML
<title> Describes the Page Content. Web Page Titles are actually w3.org standard, tell you that each document should have a title</title>
Then, you can use many different meta tags to further guide Google to better understand your webpages. For example Meta Description describes the web page content. <meta name="description" content="RankYa website features proven how to's for SEO, WordPress, Google Search Console, Google Ads, Online Marketing and Structured Data" />
Google suggests to Consolidate duplicate URLs which a website can easily accomplish using canonical URL. <link rel="canonical" href="https&colon;//www.rankya.com" />
Popular Content Management Systems usually generates important meta tags automatically, but if yours doesn't, then, consider using SEO plugins to generate important HTML meta tags. Since there are many different ones to insert within HTML head portion when optimizing websites, simply analyze the source code of sample URLs from RankYa website to see more examples.
<body>This is the HTML tag which contains the content visible to people on the frontend of web pages. This is where you create content for people to read through and take action. You should chunk large textual information in to smaller more readable sections, also, use heading tags h1 h2 till h6 for SEO (in fact, depending on the content length, using heading tags will definitely improve readability). Furthermore, heading tags in HTML has a stronger weight compared to let's say paragraph tags.
People don't read webpages when they first visit a site, their eyes scan through the content, if something catches their eye, only then they begin reading.
That is why, within the body of HTML %90 percent of SEO will be dependent on using keywords (including synonyms, variations, grammar (such as singular, past tense etc.)).
Improve usability by taking advantage of HTML tags such as strong, b, i, em, blockquote, ul, ol, li, u, and others.
Do Not Forget to Optimize Images for SEO
Since Google is also an image search engine, it has image optimization publishing guidelines that tells you to include alt attributes because it improves accessibility. As a result improves Google rankings.
Linking for SEO – Internal and External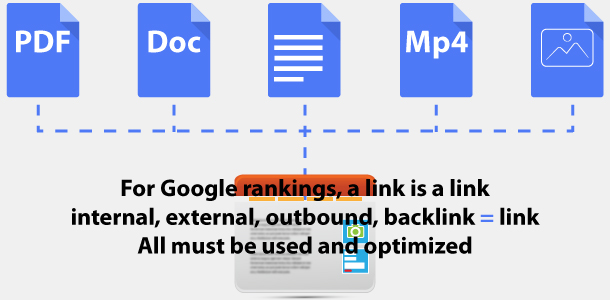 Internal Links: are hyperlinks within your entire website, for example: your menu structure has links that point to other parts of your website. Internal links then mean that all the links that are within your own website.
External Links: are links that point away from your website to other websites.
Links within the page area is also important, in fact, all links are important whether they are your website main navigation menu or internal links or external links. Because Google follows links to create associations between web documents. Computational power of Google can easily analyze both ends of all the links on public internet.
Google sees the internet for what its worth, dynamic living entity. Trillions of URLs (Uniform Resource Locator). Internet always moves and never is static. And yet, Google is still limited in terms of what it can analyze on a website.
<!DOCTYPE html> HTML structure KEYWORDS and LINKS within till the end of </html>
Google algorithms then conduct lighting fast computation when someone searches its products (Web Search, Image Search etc.) looking for relevant document according to the search query.
SEO Beginner Tutorials
Simply watch the step by step SEO tutorials in the below video (although bit outdated at the moment, you'll still gain some useful insights).
What's Changed for Search Engine Optimization
Although core concepts haven't changed in terms of Google guidelines, a newcomers to SEO should realize that now technology has changed. That means:
Better broadband speeds worldwide
Mobile device usage to access the internet
More and more people are shopping online
People are using mobile devices to find quicker answers while on the go
YouTube is now a dominant force for video content consumption
Facebook has over 2+ billion account holders and offers Ads
When conducting SEO on your site, you will need to cater for these changes by making sure that your website is mobile ready and loads reasonably fast.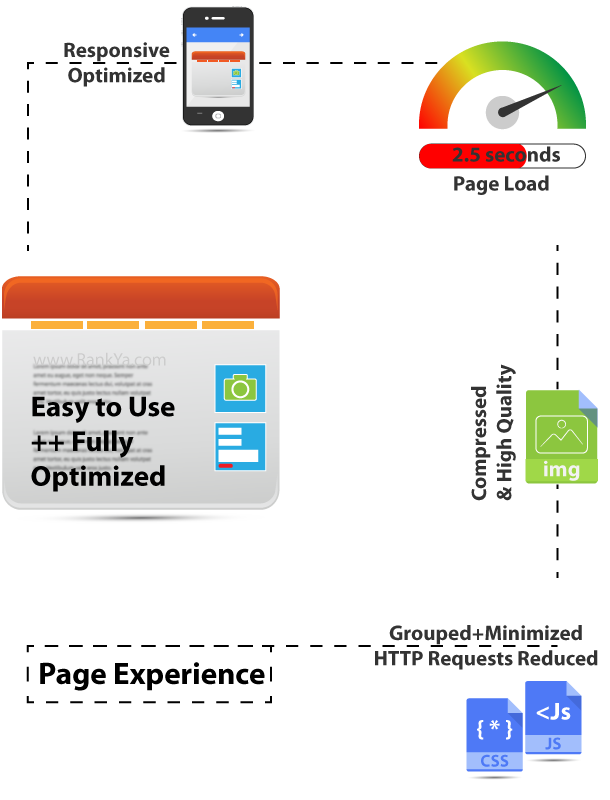 Advanced SEO
Once you optimize your landing pages by inserting keywords in important places including within link text. Then, you can use SEO plugins like Yoast SEO for WordPress or find SEO plugins for the content management system your website is using.
After you setup an Search Engine Optimization plugin, head out to Google PageSpeed Insights to analyze your website for improvements. Do keep in mind that you can use many plugins to minimize the JS, CSS, and even compress Image files for faster loading web pages.
Basically, when you are starting out learning about SEO, all you really have to do is follow the On Page Optimization techniques as I've highlighted, have an easy to use mobile friendly website with great content, allow Google to access your website by submitting XML sitemap to Google Search Console.
Content Creation & Marketing
You now know that content is everything. Although most so called SEO expert keep saying Content is King, almost all of them do not know what they are talking about. What do you call someone like that? Anyhow, in terms of your online success, content is what your ideal customers want and are searching for online. In terms of SEO and Google rankings, content is everything on your website.
Simply continue publishing content according to the website optimization techniques you now know. If you are just starting out online, focus on long tailed keywords (keywords made up of 3+ words) for getting consistent website traffic.
Subscribe on RankYa YouTube channel and stay up to date.