Negative or fake reviews have a multifaceted impact on any type of business, affecting their reputation, customer trust, online visibility, and financial success. Proactive reputation management, prompt response to negative feedback, and a commitment to delivering excellent customer experiences are essential strategies for mitigating the damage caused by negative and fake reviews.
All your effort for improving your business can look tarnished by a FAKE REVIEW left by a fake Google Account holder whom often leaving 1 star review on Google Business Profiles or Google Maps for a local Business.
In this latest blog post we will show you how to successfully get fake reviews removed from Google Business Profile (formerly Google My Business).
Must Knows for Successful Removal of Fake Negative Reviews
Google is a business, accordingly, must adhere to governing laws.
Reviews left on Google Maps or Google Business Profiles must be genuine experience.
Fake engagement is content that does not represent a genuine experience.
Video Tutorial Showing How-to Remove Fake Google Business Profile Reviews
Part 2 Video Tutorial Showing How-to Remove Fake Google Business Profile Reviews
Option for Reporting Fake Review
Find your business by using either search Google results or search Google Maps for your business and find "Reviews" option.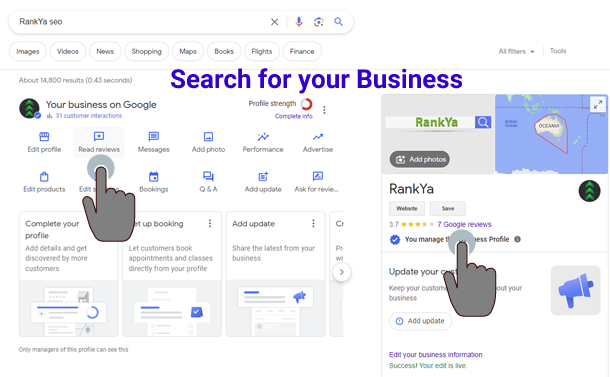 Locate and press the 3 dots … for the fake review you want removed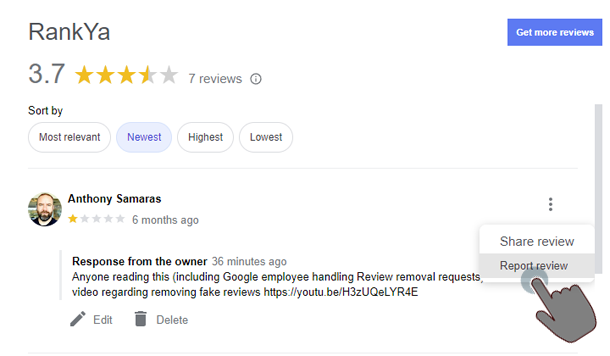 Choose Spam for fake reviews left by Fake Google Account holder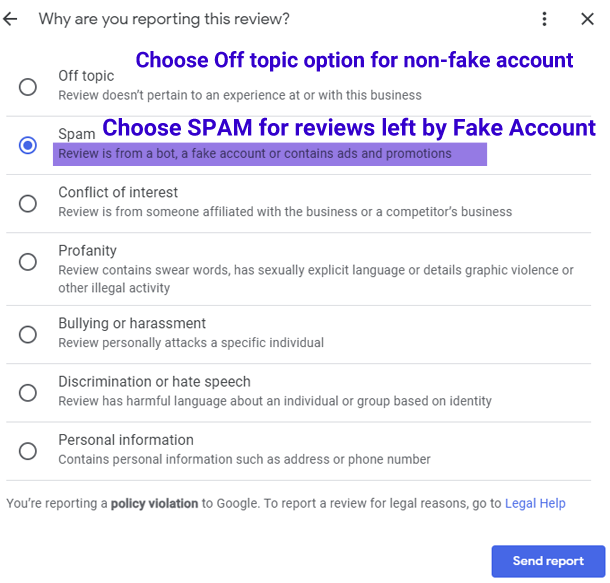 How to Find Account Holder?
Conduct through Google search about the person who left the fake review. Record all that you find for future reference. If the reviewer has a profile image, search image using Google image Lense search.
If You Found the Real Person Behind the Image?
Contact the real person behind the image, and get them to begin removal process using different Google policy. Learn more about how-to Remove an Image from Google. Because the stronger is the removal request case, better the outcome will be.
Manage Your Google Business Reviews
Report a new review for removal if you haven't flagged the fake review as of yet, or check the status of a review you've already reported and your appeal options.
What to Do When Fake Review Has Been Reviewed As 'No Policy Violation'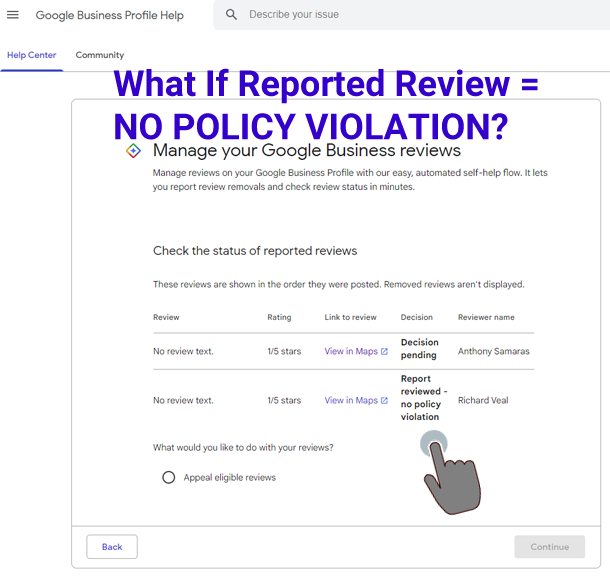 You can appeal eligible reviews and follow the steps on that screen.
Tips for Removing Fake Reviews from GBP
First, understand Google policy guidelines. Then, make certain that conduct a thorough research and record everything you find about the fake account. Often times, account holders leaving fake reviews online do so on other online profiles. This means, you should record all that you find including links you find regarding the fake account holder.
Google Content Policies for Fake Accounts
Upon researching, you find the reviewer leaving fake reviews using the same name, or fake profile image, you can also Report inappropriate user profiles using this policy
Fake Engagement and / or Misrepresentation: Do not use your user profile to engage in disingenuous or misleading behavior.
Report and fix inappropriate content
Other Policies Google Business Profile and Google Maps Fall Within
Maps user-generated content policy has Prohibited & restricted content policy
Contributions to Google Maps should reflect a genuine experience at a place or business. Fake engagement is not allowed and will be removed.
Those who leave reviews are now called Local Guides which also has Local Guides Program Terms and Conditions for Appropriate conduct and participation. Local Guides must comply with the Universal Terms. By way of example, and not as a limitation, they agree that when using Google's products or services, they will not:
submit fake, falsified, misleading, or inappropriate reviews, edits or removals.
What to Do When No Policy Violation Has Been Determined
All is not lost, because in Australia (or wherever your business is located) you are protected by law. Just because a review has 'No Policy Violation' attached does not mean you can't get that fake review removed.
Basically, you can begin a legal process and actually take Google to court. Although getting a lawyer involved is advised, most small business owners may not be able to afford to take Google to court. In such case, you can still create a professional letter which includes your finding (dates, links, images etc.) and send that to Google as a business stating that you will begin legal processes should the matter is not resolved. This often may avoid legal process dragging on in courts.
More Resources