Video Tutorials for Creating Google Ads Campaigns
If you are just beginning to use Google Ads (formerly Google AdWords) Pay Per Click Advertising, then make sure you avoid the 7 deadly Google Ads Mistakes that can cost you big.
Advertising Home Page Only
Advertising your home page without either creating unique landing pages specifically designed for the Ad Campaign creation can cost you big. Only in rare circumstances should you be advertising your home page. In most cases you should advertise individual landing page (or create new landing pages just for Google Ads campaigns).
Focusing on Keywords Only & Grouping Unrelated Keywords
Yes, almost all of the features and insights in Google Ads Help Section will talk to you about keywords, keywords and more keywords. However, to reduce your costs and to get higher conversion rates. You should see beyond keywords, and look at the intent of the keywords you are targeting.
Grouping unrelated keywords: when you select and group keywords together, then make sure that you are selecting keywords that compliment each other and do not group keywords that are not related to each other. Particularly important when Google Ads shows you "Opportunities" for new keywords. Group related keywords together.
Not Focusing on Landing Page Experience?
Another critical aspect of creating better Google Ads campaigns is the landing page experience you provide for your website visitors.
Here's the process I follow when I analyze web pages. I see everything on a web page as a distraction first.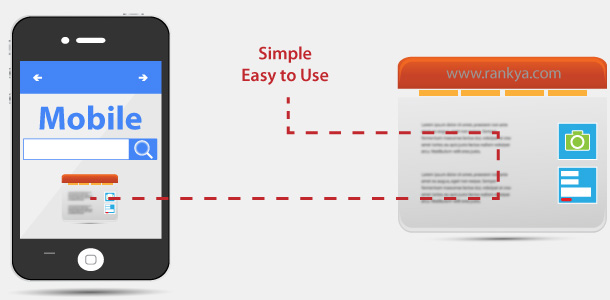 Then ask "although all these web page elements (text, images, menus etc.) are important to have, how do they serve and add value for website visitor user interaction and website conversions?". Your aim should be to simplify the user experience, because easier the interaction, higher the content consumption and thus higher the conversions.
Mobile Friendliness & Usability
Just because a website and a landing page passes through Google Mobile Friendly Testing tool with flying colors doesn't mean that web site is mobile friendly. Instead, you can quickly use Chrome Browser and Press on CTRL+F12 and use Web Developer Mobile rendering to see how the website looks on popular mobile devices. Test as if you are your website visitor, scroll down, press on links buttons etc. you are sure to find opportunities for improving mobile usability. Do not neglect the importance of mobile user experience as its tied to everything good (Google Ads Quality Score, organic rankings as well as higher conversion rates).
Not Protecting Your Brand?
Even if you are just starting out online, or a small business owner, you have to make sure that your competitors aren't advertising for your brand. First, search for your own brand (or domain name to see if a smarta$$ competitor decided to run ads for your brand name. If they have, then explore Position above rate. Whether they have or not, create Google Ads campaign just for your brand (keywords). Protect your brand at all costs.
Not Using Ad Extensions?
Ad Extensions not only are important for Click Through Rates, they are also taken into consideration for Ad Rank. There are many different types of Ad Extensions, and you should experiment with all of them, or at least use the most appropriate ones for your business.
For example: local businesses should create Google My Business Listing and take advantage of location extensions. This is a must for Local Businesses.
Here's Google Ads Tutorials for Beginners Power Tips Course by RankYa
Not Experimenting with Different Bidding Strategies?
There are many different ways you can participate in Google Ads Ad Auction using different bid strategies. However, beginners to PPC advertising searching for Google Ads Tutorials for Beginners are often times sold on a concept that they should choose one particular bidding strategy because apparently that works better than the other.
All I got to say about that is that there is a good reason for Google providing different bidding strategy options. Experiment using different strategies.
Got YouTube Videos But Not Using Video Advertising?
And finally, video advertising, first of all, if you are not carving your niche on YouTube, then, why not start? Because all you really need is a smart phone.
If you already have videos on YouTube, remember that advertising video ads are relatively cheaper compared to other Campaign Types. How can you afford not to reach your target audience using videos? Create a YouTube channel because RankYa shows you how to easily optimize it, and even bring free viewers using RankYa Optimization Strategies for YouTube videos too.
Now you know which common mistakes to avoid when using Google Ads, make sure your new campaigns are optimized using these insights. You will save money, and, you will gain higher conversion rates.
Google Ads Course by RankYa
Core concepts about Google Ads
How Google Ads campaigns are structured & how to arrange your campaigns, ad groups and keywords
How search happens and understanding what keyword selection and targeting really is
How to use the Google search box to find keywords to target
What goes into creating The Perfect Landing Page that converts
Understanding Quality Score more easily
Why default settings in Google Ads never work in your favor
What is Search Cycle and which keywords to focus on
Google Keyword Match Types simplified
Understanding Google Search Network
Bid Strategies & Budgets
Remarketing, Image Ads, Video Ads
Tools, Tabs, Opportunities in Google Ads
Ad Rank Simplified
Plus much much more
Below is the links to the Course by RankYa which simplifies using Google Ads for small business community, now available on RankYa YouTube channel. Google Ads Training Course